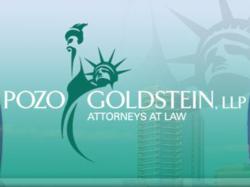 Orlando, FL (PRWEB) December 10, 2012
Pozo Goldstein, LLP understands the many legal needs of those in the United States dealing with immigration concerns. Their firm has more than 50 years of collective legal experience in this very area, and they are proud to now offer their services to those in living in Orlando and Tampa. Pozo Goldstein's new office is located at 37 North Orange Avenue, Suite 500 Orlando, FL 32801. The reason behind their choice to expand their offices to this location is because they saw the great need for immigration defense in the Orlando area. As former Immigration Prosecutors, who previously worked with the Chief Counsel for Immigration in their Miami and Orlando offices, they have years of experience with immigration laws; they want to offer immigrants throughout Florida the legal assistance that is deserved.
With their past experience, they are uniquely qualified to represent the people of Orlando who are facing immigration issues with the government. They understand that as the Orlando Immigration Court grows, so does the need for adequate representation for individuals in the area. Inclusive immigration reform is a large possibility in the United States, and has the potential to open many new doors for undocumented immigrants that are currently residing in America. While the Orlando area may or may not be affected by this reform in the future, there are still people today that are in need of immigration representation.
Their firm is equipped to handle a variety of immigration cases including deportation defense, business immigration, green cards, citizenship, non-permanent visas, and permanent visas among others. Now that they have an office located in Orlando, many individuals have been given the opportunity to find attorneys who are prepared to handle their cases and fight on their behalf. As former prosecutors for immigration, the attorneys at Pozo Goldstein, LLP have a well-rounded understanding of the immigration legal system, and they are then able to use that on behalf of their clients today as they represent them before the court.
There are many immigrants in the state of Florida, as well as all over the country, and Pozo Goldstein, LLP is taking small but significant steps to reach out to these people in need of professional legal representation. Today, they can proudly say that they offer their services to immigrants in New York, Miami and now Orlando. Opening a new location is an exciting phase for this firm, as they care about the people and their rights as individuals. They want to do whatever it takes to fight on behalf of those who hope to remain in America and feel as though all hope is lost; to help them remain in the place that they now call home.
Pozo Goldstein, LLP is proud to represent immigrants in Orlando as they celebrate the opening of their newest office. This firm has been dedicated completely to the legal practice of immigration law for a combined total of more than 50 years. Their legal team is comprised of a former judge and prosecutors. Their attorneys are known for their success rate as they have had the privilege to help numerous clients with their immigration needs in years past. To learn more about the firm or to schedule an appointment, you can call them at 888-744-7980 or visit their website at http://www.orlando-immigration-attorney.com.