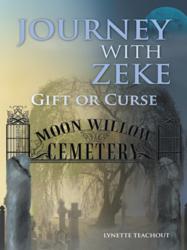 When we dream we are working on solutions, experiencing a different kind of freedom, reflecting on something in our past, present or future
Lansing, Mich. (PRWEB) December 13, 2012
From the time of ancient Greece to today's modern schools of psychology, dream interpretation has captured the intrigue of young and old alike. To many people, dreams have been considered prophetic or omens of particular significance.
Lynette Teachout, author and spiritualist, believes that to fully apply the meanings of these dreams, we must be open to a variety of analysis and interpretation. In her latest book, Journey with Zeke, Teachout takes readers on a mission to discover deeper spiritual truths through the lives of two brothers encountering the unknown. By embracing their dreams and searching for meaning behind their visions, the two young boys are able to experience a new, otherworldly connection.
"When we dream we are working on solutions, experiencing a different kind of freedom, reflecting on something in our past, present or future," Teachout said. "Our spiritual connections should not be feared because we don't understand the true meaning of what is happening. Instead, those connections should be embraced," she added
In Journey with Zeke, readers travel alongside two brothers as they encounter strange voices, cryptic dreams and mysterious spirit guides on a journey of spiritual discovery. As they reveal the secrets of dream interpretation, Teachout's characters help readers to overcome fears and understand relationships within the universe.
Journey with Zeke
Gift or Curse
By Lynette Teachout
ISBN: 978-1-45255-533-1
About the author:
Lynette Teachout has always been interested in understanding how dreams, visions, and otherworldly encounters impact our spiritual journey. Having just released her current novel, Journey with Zeke, Teachout continues to pursue her passions in Rives Junction, MI with her husband Terry.
###