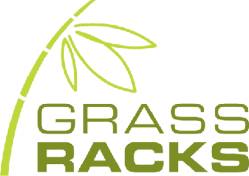 Malvern, PA (PRWEB) December 11, 2012
Take a deep breath, Boarders, now release. They're finally here. No more mistreating boards by hiding them in the garage. It's time to display those beautiful boards, skis, and bikes.
Introducing Grassracks, a new line of bamboo board racks and shelving by Maholla Products. Strong, stylish, and incredibly easy to install, Grassracks provides the chance to not only safely store, but display boards and accessories on what would otherwise be a boring, empty wall space.
Using our newly-engineered mounting system, each rack can support 200+ lbs. when drilled into wall studs and can be easily installed in under a minute. Aside from the 3 screws that fasten the Mounting Bar to the wall, everything from supports to spacers is solid bamboo, not merely a bamboo veneer. No glues, no screws, no nails!
The secret is the material. Bamboo is an incredibly strong and versatile material, used in everything from making t-shirts that are softer than cotton to making skyscraper scaffolding in Asia. Additionally, bamboo has a beautiful natural grain, giving it a great look to compliment any living space. As one of the fastest growing and most sustainable resources on the planet, there was never another material option for this Eco-Friendly line.
Safe, functional, gorgeous. Give your board the respect it deserves with Grassracks.
Founded in 2010, Maholla Products' mission is to give the world an eco-friendly, high-quality, and innovative alternative to the everyday metal and plastic products that exist today. You don't have to be a board sport enthusiast or environment lover to appreciate the strength and beauty of our products. Maholla Products is a privately held company headquartered in Malvern, PA. We are committed to making the world a better place through environmental and social responsibility through products like Grassracks. For more information on Maholla Products, please visit http://www.grassracks.com.