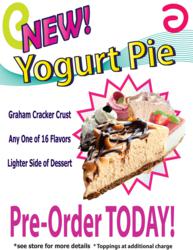 (PRWEB) December 12, 2012
Yogi Castle Premium Frozen Yogurt has taken self serve froyo to the next level. After much success with the launching of their froyo milkshake and continuing on the theme of classic desserts reinvented with a healthy twist,Yogi Castle now introduces frozen yogurt pies.
Continuing with the theme that the customer is the master of their own creation, they may choose from any one Yogi Castle's 16 flavors they carry in the store at that particular time plus a choice of their own toppings. The options are endless - Whether it be Oreo™ Cheesecake Pie topped with crushed Oreos and chocolate sauce or Cake Batter pie topped with gummy worms and rainbow sprinkles - it is as good as you create it!
Since each one of the pies are made with Yogi Castle's frozen yogurt which bears the seal from the National Yogurt Association, with every delicious bite you are guaranteed probiotic goodness. All that and a third of the calories than the average pie!
A great ending to a big meal or the perfect gift for Christmas- either way someone is sure to appreciate every last drop. Please visit http://www.yogicastle.com for more details.