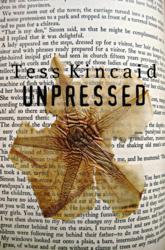 Dublin, Ohio, USA (PRWEB) December 12, 2012
This compelling, twenty-six poem, soft-cover collection is a fresh, engaging look at love. An accompanying audio recording, by the talented British voice artist, R.A.D. Stainforth, will also be available at the time the books ship, March 1, 2013.
"Like dragonflies that seem to materialize out of thin air to hover before us, each poem in Tess Kincaid's brilliant second collection Unpressed is a slow-motion reveal of exquisitely realized imagery and electrically charged linguistic compression. Turning on the intimate moments of daily life, pulling us into a kinetic, often whimsical world, this is a book to savor and return to, best kept close at hand." Jenne' R. Andrews, Literary Fellow, National Endowment of the Arts.
"Tess Kincaid's poems are delicious little morsels full of elemental observations and uncluttered declarations of love. Unpressed is a collection to savor and re-read to discover all its understated pleasures." Collin Kelley, author of Slow To Burn and Render.
"A consummate & compelling collection, Unpressed is both internally intensive and existentially, extensively profound. In communion with a mistress of the poetic medium, I felt at the mercy of a potent imagination that never failed to deliver an incredibly intuitive and inspired expression." Seán McGrady, author of The Backslider.