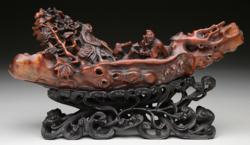 "I have never seen anything like this rhinoceros horn libation cup. Its form and subject until now were unknown." - James Callahan, Director of Asian Arts, James D. Julia
Woburn, Massachusetts (PRWEB) December 12, 2012
James D. Julia, one of the nation's top ten antique auction houses, is excited to unveil two absolutely remarkable Asian Art treasures in association with the company's upcoming Annual Winter Antique, Asian & Fine Art Auction to be held January 30th through February 1st, 2013. These exceptional lots are certain to be of great interest to fine arts enthusiasts around the world and to showcase James D. Julia and the company's specialists as leaders in the important Asian Arts auction category.
The first item, from a Southern family estate, is a breathtaking Chinese rhinoceros horn libation cup. This absolute rarity, produced during the K'ang Hsi period (1662 to 1722) is in raft form and has a hollow center, flat base, and elaborate carvings. There are only 18 known raft cups in existence. This cup rests on an equally magnificent zitan wood stand, which is nautically detailed with crashing waves. The cup itself is unique in two key ways. The first is its size. It measures 10 inches long and is considered very large given that horn cups range in size from 8 to 13 inches. The second is its subject matter. It features a lifelike rendition of Zhang Qian, (200 BCE to 114 BCE) the first official diplomat to travel what is now known as the "Silk Road" and to bring back intelligence about Central Asia to the Chinese imperial court. He is accompanied by a partially nude western female figure. There is no other known example of a rhinoceros horn libation cup with this theme.
The second item is an important Korean palace longevity screen from the late Yi Dynasty period. It was a gift to the consignor's grandfather, a diplomat, at the end of World War II. This 18th century piece consists of 10 silk panel screens which have been hand-painted with ink and mineral pigments. It measures 83 inches tall and 165 inches wide overall. The screen features an artist's interpretation of the Gardens of Longevity. The scene pictures a blue and green stylized landscape, golden clouds, a bright red sun, a peaceful waterfall, and a meandering river. The design is deeply rooted in numerology, which is particularly evident with its animal inhabitants. These include several pairs of cranes, a herd of ten deer, and four mythical tortoises. In addition, two coral-red pine trees feature prominently in the forefront, suggesting that the artist was married. The inscription on the back reads, "Ten Panels for Long Life."
These items were discovered through James D. Julia's Woburn, Massachusetts office, which was recently established to deliver first rate identification, valuation, and auction services to customers in the Boston and southern New England areas. According Woburn's James Callahan, the company's Director of Asian Arts and a regular on PBS' Antiques Roadshow since 1996, "Both of these treasures are exceptional and absolute rarities. I have been a student, connoisseur, and appraiser of fine Asian Arts for over 40 years and have never seen anything like this rhinoceros horn libation cup. Its form and subject until now were unknown. The Korean Palace Longevity Screen is simply breathtaking in its arrangement, color, and balance. It tells a magical story in the most fantastic way and I have not seen better examples in any of the world's finest museums."
About James D. Julia, Inc.:
James D. Julia, Inc., one of the top ten auction antique houses in the nation, is headquartered in Fairfield, Maine. The company also has an office in Woburn, Massachusetts. In business for over 40 years, the company conducts high-end antique, collectible, and decorative arts auctions throughout the year. Julia's routinely establishes new world records through its sales events. Julia's has four key divisions, including rare firearms and militaria; fine and Asian art and antiques; lamps and glass; and important toy, dolls, and antique advertising. Each division has been ranked nationally for excellence and is staffed with world-class specialists to insure fair and professional authentication, identification, and valuation services.
James D. Julia is a proud recipient of the 2012 Governor's award for Business Excellence, which is administered by the Maine Department of Economic and Community Development. This honor recognizes companies that demonstrate a high level of commitment to the community, employees, and to manufacturing or to service excellence.
For more information on James D. Julia, Inc. and the company's Annual Winter Antique, Asian & Fine Art Auction, please visit http://www.jamesdjulia.com.