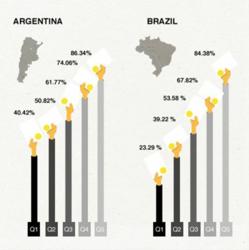 Washington, DC (PRWEB) December 10, 2012
The Inter-American Development Bank (IDB) is launching a new initiative that seeks to raise public awareness of the high school dropout crisis in Latin America and generate solutions to keep more young people in school. By presenting the latest dropout research and data in engaging platforms such as social media, film, and interactive online forums, GRADUATE XXI aims to involve Latin Americans from all walks of life in efforts to improve education systems and increase the number of high school graduates across the region.
Why students drop out
In recent years, access to education has improved significantly in Latin America. Primary education is virtually universal throughout the region. However, nearly half of the students in Latin America do not finish secondary school. Gaps in access to education persist among socioeconomic and ethnic groups, as well as between urban and rural communities. Indigenous youth, the poor, students with disabilities and youth who live in rural areas are disproportionately represented in dropout rates throughout Latin America.

In every single Latin American country, the gap between rich and poor students persists.
Over half of youth in rural areas do not complete 9 years of school.
More than 40 percent of indigenous youth between the ages of 12 and 17 are not in school.
It is estimated that only 20 percent to 30 percent of all children and youth with disabilities in the region attend school; most of them never finish high school.