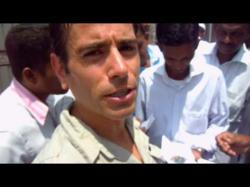 During my many trips to Sri Lanka I have purchased some incredible sapphires
New York, NY (PRWEB) December 12, 2012
Travel Channel has unveiled plans to make a program called Gem Hunt that aired for one episode this past June into a new primetime series.
Adding to the popular list of gold and treasure hunting shows; the new program Gem Hunt will follow gem dealer Ron LeBlanc, geologist Bernie Gaboury and jewelry expert Diane Robinson as they traverse the world in search of gemstones to be cut, polished, and sold. As shown in the original episode, the team travels to places as exotic as Madagascar and deals in the cutthroat and intense business of gem buying, whether doing so in the streets, the offices, or the somewhat "dark alley" situations of Madagascar's booming gem trade.
Madagascar has seen great growth since the discovery of sapphires there during the 1990's, however chances are the Travel Channel will soon head to the island nation of Sri Lanka – a place also known as Ratna-Dweepa, which means Gem Island. Precious sapphires and rubies have been found there since before the arrival of Marco Polo, just as gem hunters have long headed to Sri Lanka before the arrival of the Travel Channel.
In a recent auction by Bonhams a ring by Van Cleef and Arpels featuring a 43.16ct sapphire from Sri Lanka sold for $1.6 million. Similar to the reasons a gem hunter does what he does - to find the perfect stone - Jacques Arpels himself traveled to Sri Lanka in 1969 to buy that beautiful sapphire. Fast forward over 40 years, to Michael Arnstein, CEO of The Natural Sapphire Company who has traveled back and forth to Sri Lanka in search of the rare untreated sapphires that the country is famous for. According to Mr. Arnstein, these gem hunting trips require large investments, difficult travel, and long often uncomfortable hours searching for the perfect sapphire.
"During my many trips to Sri Lanka I have purchased some incredible sapphires," says Michael Arnstein. The incredible sapphires Mr. Arnstein is referring to include the crown jewel of The Natural Sapphire Company, a 69.35 carat intensely colored untreated oval-cut sapphire that Mr. Arnstein purchased in December of 2006. "When I originally purchased the sapphire in Ratnapura, Sri Lanka it weighed 80 carats, having been cut from a 129ct crystal in 1952. However, in order to make a finer stone, we recut the sapphire to create more symmetry, as well as increase the light return, thus improving its pure untreated blue color."
Though The Natural Sapphire Company will not be featured at all in the Travel Channel's series, Paul Vermylen, one of the company's trained gemologists and self-described "fan of Gem Hunt" has said that he is "eager to see Gem Hunt again as the gem dealer Ron LeBlanc showed a clear sense of ethical responsibility – something that The Natural Sapphire Company strongly values."
About The Natural Sapphire Company:
The Natural Sapphire Company specializes in mining, sourcing, and selling natural untreated sapphires. Founded in 1939 by Walter Arnstein, the company is now a third-generation family business. The Natural Sapphire Company supplies sapphires to retailers, jewelry manufacturers, and private clientele. The company launched its Internet retail section in 1999 and has since become a popular e-commerce website. The Natural Sapphire Company is known to have the world's largest collection of natural, untreated loose sapphires and an amazing array of natural sapphire jewelry for engagements and gifts. http://www.TheNaturalSapphireCompany.com