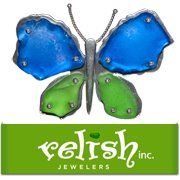 'We held a similar event four years ago in Erie and had 7,000 attendees,' said Jennifer Reed, one of the owners of Relish Jewelers. 'It was a huge success and we expect to exceed the last event's number of attendees.'
Erie, Pa. (PRWEB) December 12, 2012
Up to ninety vendors and more than 7,000 attendees are expected to take part in the Great Lakes Sea Glass Festival hosted by Relish Jewelers in Erie, Pa.
Slated for Memorial Day weekend 2013, (May 25 and 26) the festival will be held in the Great Hall of Erie's 29,000 square foot Bayfront Convention Center.
Sea glass and coastal artisans have until January 15, 2013 to apply to exhibit at the festival.
"We held a similar event four years ago in Erie and had 7,000 attendees," said Jennifer Reed, one of the owners of Relish Jewelers. "It was a huge success and we expect to exceed the last event's number of attendees. It's going to be a supercharged event and we encourage everyone to attend."
There will be lectures from local and regional experts on a variety of coastal subjects, from beach ecology, to the origins of sea glass, to Erie's shipping industry. The festival will also feature live music from Erie's Salmon Frank Band, a cash bar and plenty of "grub and grog."
A "Shard Contest" will be held at the event and attendees can submit up to three pieces of beach glass to be judged for a cash prize. A raffle will also be held, which attendees can enter to win a variety of gifts from both vendors and local businesses.
An artist's reception will be held from 7 to 9 p.m. on Saturday, and will feature appetizers and a cash bar.
In honor of Memorial Day, a portion of the festival's proceeds will go directly to a local Veteran's organization. Another portion will go to The Pennsylvania Sea Grant, a national network that conducts scientific research, education and training about conservation of aquatic resources.
If you're interested in volunteering, please contact Terri Reed or Jennifer Reed at 814-836-1827.