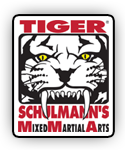 Our new program allows current active students to refer a family member or friend try Tiger Schulmann's MMA now for only $99
Elmwood Park, NJ (PRWEB) December 12, 2012
Tiger Schulmann's Mixed Martial Arts (MMA) has launched a Holiday Special Referral Promotion for all active students. This Referral Special allows active students to refer a Friend or family member during the holidays to receive One month of Unlimited Classes, Free Orientation Class, Official TSMMA Uniform and Training Apparel and Training Gloves for only $99. This limited time offer is valid till December 25th.
"Now is the best time to refer a friend and help them jump on the New Year!" Stated David Grandy, Marketing Manager at Tiger Schulmann's MMA and Kickboxing.
David further stated "Our new program allows current active students to refer a family member or friend try Tiger Schulmann's MMA now for only $99."
The Referral Promotion will offer all new students the following for just $99:

One Month of Unlimited Classes
Orientation Class
Official TSMMA Uniform / Training Apparel
Training Gloves
Tiger Schulmann's MMA offers world class Mixed Martial Arts, fitness, kickboxing and weight loss training programs for Men and Women. Tiger Schulmann's Kids Martial Arts programs offer nationally recognized Martial Arts, Karate, Self Defense and Fitness activities, supervised by highly experienced, trained and motivated instructors.
Tiger Schulmann's MMA and Kickboxing locations in New York include Astoria, Bay Ridge, Bayside, Bensonhurst, Carle Place, Dix Hills, Glendale, Great Neck, Hicksville, Islandia, Manhattan, Massapequa Park, Mount Kisco, Nanuet, Rego Park, Rockville Centre, Smithtown, Staten Island, Plainview, Woodbury, and Yonkers.
In New Jersey, Tiger Schulmann's MMA Gyms are available in Cherry Hill, East Brunswick, East Hanover, Eatontown, Elmwood Park, Englewood, Hoboken, Marlboro, Middletown, Old Tappan/Nothvale, Paramus, Princeton, Ramsey, Rockaway, South Plainfield, Toms River, Watchung and Wayne.
Tiger Schulmann's Mixed Martial Arts (MMA) and Kickboxing has also multiple locations in Pennsylvania, Florida and Connecticut.
To take advantage of this Referral Special, all Active students should call or stop by their Tiger Schulmann's MMA school, before the offer ends on December 25th.
About Tiger Schulmann's Mixed Martial Arts
Tiger Schulmann's MMA and Kickboxing is an established leader in the Mixed Martial Arts training for adults and a leading advocate of children's self discipline, self defense and anti bullying programs. In business since 1984, Tiger Schulmann's has over 47 locations across, New York, New Jersey, Pennsylvania Connecticut and Florida. The school's Mixed Martial Art system fuses together a combination of techniques, including striking and grappling, in order to provide the most effective means of self-defense in either realistic confrontations or competition. In addition to Martial Arts training, Tiger Schulmann's programs offer weight loss, self defense and general fitness activities for men, women and children. Tiger Schulmann's MMA programs have received national recognition on premium media outlets such as Sesame Street, Good Day New York, MTV, Good Day Philadelphia, Eyewitness News, ESPN, Good Day Tampa Bay, The Late Show with David Letterman, and many more.