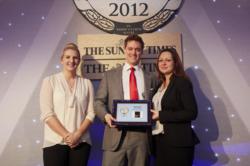 Preston Baker is a very exciting agency which has excelled this year.
Leeds, West Yorkshire (PRWEB UK) 12 December 2012
Preston Baker, the independent estate and letting agency which launched in December 2011, has announced the opening of a fifth branch in Leeds Moortown LS17. The new branch opening confirms the agency's status as the fastest growing independent estate agency in West and North Yorkshire, now with three offices in Leeds and branches in York and Selby.
"In difficult economic times, we are bucking market trends and expanding," says managing director Ian Preston. "We're a proactive, family-run agency which means that we are not bound by corporate restrictions and can respond better to the special local needs of our sellers, buyers and landlords." In the 12 months since becoming independent, Preston Baker has sold properties with an exchange value of more than £70million. "We are particularly proud to have created 37 new jobs in the region, including two apprenticeships," says James Baker, senior director.
Nicky Partridge, who has been heading the Preston Baker Oakwood branch, has been appointed as manager of the new Leeds Moortown branch located at 3 Shadwell Lane, Leeds LS17 6DP. "Since opening in Oakwood we have been trading in the LS17 with great success. However, it has become clear that we will be able to improve our service to sellers if we have dedicated specialists who understand why so many people choose Alwoodley, Shadwell and Moortown as their chosen area to settle in. I am confident that the Preston Baker 'Sold' board will become the most common sight in this area," says Nicky.
At the same time as confirming the opening of the new branch, Preston Baker has been awarded the Silver Award for Best Small Northern Estate Agency at the Estate Agency of the Year Awards 2012, sponsored by The Times and The Sunday Times. According to the Judges' Report, Preston Baker "combines the best of corporate infrastructure, systems and processes with the best of bespoke, small agency attitude and services. Preston Baker .... has excelled this year and it embraces technology and new techniques to give both buyers and sellers the best possible experience."