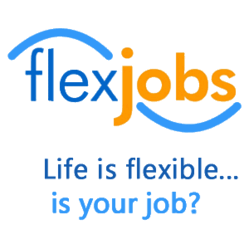 Boulder, CO (PRWEB) December 14, 2012
A November 2012 "Parents & Work" survey of 725 parents interested in flexible jobs, conducted by FlexJobs, found that although 91% of today's parents "need" to work, 76% of these parents also "want" to work. Unfortunately, traditional full-time jobs conflict with important parts of taking care of families, agreed 96% of the respondents.
One common example of that work-life conflict is sick children. 81% of parents have missed work to take care of a sick child and 58% have worried about losing pay or their job because of it. As a result of this fear, 42% of parents have chosen to miss important events in their childrens' lives and 57% have used sick time or paid time off to attend those events. However, this group of job seeking parents is also optimistic, with 81% saying they can be both great parents and employees if given flexible work options.
When asked what the most important factor in their next job is, respondents overwhelmingly chose flexible work options as most important (89%), followed by pay (50%), then feeling good about the company, the people and the corporate culture (44%), having a relatively short commute (36%), finding a job in line with their career path (34%), and finding a challenging job (33%).
"I think that employers should really be paying attention when parents in this day and age choose workplace flexibility over money," said Sara Sutton Fell, CEO of FlexJobs. "Many employers – and even job-seekers – think these jobs are on the fringe of the employment market, but with technology making it so much easier to work from anywhere and anytime, it just isn't true anymore. 75% of those surveyed know another parent who has a telecommuting or flexible job. This generation of parents is focused on balancing their professional and family obligations, and they don't want to let one overrun the other."
The demographics of this study showed parents who want workplace flexibility are overwhelmingly well-educated (82% have a college degree), they're married (81%) women (93%) between 30 and 49 years of age (79%), and they are "experienced" professionals (say 57%, followed by "manager" at 26% and "executive" at 9%).
The Impact on Employers
The results demonstrate employers looking to hire this group of motivated professionals should consider workplace flexibility initiatives like full-time telecommuting (the first choice of 41% of respondents), flexible schedules (27%), occasional telecommuting (18%), and part-time schedules (11%). The survey responses also indicate that parents would give up a part-time schedule and work full-time if they could telecommute or have a flexible schedule.
Employers might also see a more productive workforce with the right flexible work options. 95% of parents said that they would maintain or improve their productivity if they worked from home, and 84% said they would miss fewer work days from sickness or unplanned absences.
The Impact on Community Involvement
Workplace flexibility could also lead to an increase in community involvement, with 89% of parents saying that a flexible job would allow them to spend more time volunteering in their children's school and organized activities. 50% of those would be first-time volunteers.
"It's clear from the results that allowing parents the option to work from home would give them more time to give back to their community and also get them back into the workforce," shared Fell.
The Holidays and Workplace Flexibility
The survey also aimed to understand what stress working parents feel this time of year and how workplace flexibility might alleviate that burden. According to respondents, even if they take vacation or paid time off during the holidays, 53% will still be expected to check in or work from home on their days off. Add to that additional childcare challenges during the holidays, which 29% of parents surveyed face, and it becomes clear why 78% of parents said the holiday season stresses them out.
"Workplace flexibility allows parents to balance and rebalance their work and family lives based on the needs of any given season or situation," said Fell, "so it's clear that flexible jobs would help to lessen the feelings of stress that so many working parents feel during the holidays."
Full results of the survey can be viewed at:http://www.flexjobs.com/blog/post/flexjobs-survey-parents-who-want-to-work-from-home/
For media inquiries, please contact Chelsea Gladden, Chelsea (at) flexjobs (dot) com or 1-866-991-9222 x4.
About FlexJobs
FlexJobs is the leading online service for hand-screened and professional flexible, part-time, telecommuting, and freelance job listings. FlexJobs gives job seekers an ad-free way to find legitimate jobs quickly, easily, and safely. A proud member of the Better Business Bureau, FlexJobs skilled research team provides quality job leads in over 50 career categories, ranging from entry-level to executive, freelance to full-time. FlexJobs is a green, carbon-balanced company which is leading the way to the future of work by promoting telecommuting and flexible jobs that allow people to enjoy work and life in environmentally sustainable ways.
To find out more about FlexJobs, visit http://www.FlexJobs.com.