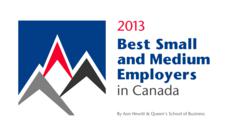 It's a gratifying acknowledgement our effort to promote the health, happiness and well-being of our employees has been effective.
Toronto, Canada (PRWEB) December 11, 2012
Intelex Technologies is Canada's tenth-smartest employer according to a study of the nation's 50 best small and medium employers facilitated by Queen's School of Business and AON Hewitt. The news follows a cascade of recent accolades for the Toronto-based software pioneer: being named one of Toronto's best employers by The Toronto Star and The Globe and Mail, as well as being included in Deloitte's list of Canada's 50 fastest-growing and North America's 500 fastest-growing tech companies for the fourth consecutive year.
"We're honoured and humbled to be included in another list of the best employers in Canada and we're simply thrilled to rank in the top ten," says Mark Jaine, Intelex President and CEO. "I'm happy that we placed so highly in this particular listing since it is based on anonymous employee surveys. It's a gratifying acknowledgement our effort to promote the health, happiness and well-being of our employees has been effective."
Intelex recently wrapped up another record-setting fiscal year in terms of growth and continues a 10-year trend of substantial year-over-year revenue increases. As the company continues its aggressive expansion into international markets and new industry verticals it seeks top-tier talent from across southern Ontario and around the world to fuel its growth.
The list, published in PROFIT magazine's online PROFITguide, ranked 50 employers across the country on the basis of employee engagement scores, which were determined by surveying individual employees. With over 200 employees, Intelex offers an array of benefits and perks that have helped contribute to its recent success in employer competitions. Intelex made a significant jump in this year's ranking, after placing 42nd in last year's list. Additionally, earlier this year the Star ranked Intelex Toronto's third-best employer and the Globe named Intelex Canada's fifth-best small or medium employer.
"We realize most full-time workers in Canada spend more time at work with their colleagues than they do at home with their families," adds Jaine. "I think it is incumbent us as an employer to recognize this and make it a key priority to foster a family-centric environment and a work culture that reflects our key values of integrity, stewardship, and happiness."
-30-
About: Intelex is a global leader in environment, health, safety (EHS), quality and business management software solutions with over 700 clients and 600,000 system users across dozens of industries. Since 1992 its scalable, web-based platform and suite of EHS, quality and business performance applications have helped clients streamline business processes and ensure sustained compliance with internationally accepted standards (e.g. ISO 9001, ISO 14001 and OHSAS 18001) as well as regulatory requirements.