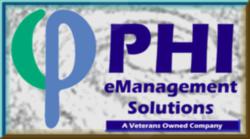 Zombie survival kits are a great way to prepare for the zombie apocalypse and just about any other potential disaster.
Newmarket, NH (PRWEB) December 11, 2012
Ralph Huber, President of PHI Management Solutions announced that their new line of Zombie Apocalypse Survival Kits is now available for both retail and wholesale purchase.
The new line of zombie kits builds on the PHI's experience with the previous versions of the kits. The 4th Generation kit features an improved pack as its main feature. The new pack is similar in appearance to the previous version; however, the new one is even more rugged and durable.
In addition, PHI has also added a completely new kit called the Zombie Survival Kit – Advanced Tactical Sling Bag. This kit is a great product and is built on a high quality tactical sling bag. Like all of the PHI kits, it is loaded with everything you need to escape from zombies or to survive other emergencies like hurricanes, floods, earthquakes, and Mayan Doomsday.
The 4th Generation line of Zombie Apocalypse Kits is available for wholesale distribution. Gil Colon, PHI Senior Vice President, said that the Zombie Apocalypse line of kits has been their single bestselling product line exceeding all projections for the season. In fact, he said, we had to launch the 4th Generation line a month early because we sold out of the 2012 series.
Colon went on to explain that one of the reasons why their kits have proved to be so popular is that they are designed to be functional regardless of the emergency that you are facing. He said that all of our kits have the essential food, water, and other emergency supplies that everyone should have in their home 72 hour kits. But, in addition, our kits are designed for rugged use in emergencies plus they are really cool. Colon stressed that if you are looking for a unique gift and want to help your family and loved ones be better prepared for emergencies then this is a great kit with everything that you need.
PHI Management Solutions, Emergency Management Division, offers many different home and institutional products for emergency planning. They also have free downloads and information links designed to inform and assist individuals, families, organizations and businesses prepare for emergencies. Our team is composed primarily of veterans with over 90 years of combined service. Each member of the team has proven themselves through combat command and has extensive experience in disaster response and planning. Team members have commanded response forces and/or participated in several disaster responses to include the 2005 crash of a civilian airliner in Afghanistan, Hurricane Katrina 2005, Southwest New Hampshire Flooding in 2005, New Hampshire Statewide flooding in 2006, Epsom, NH tornado response in 2007, the 2008 New England Ice Storm, 2009 Anthrax Response in Durham, NH, the 2010 Wind Storm, Hurricane Irene in 2011, the October 2011 New England Snow Storm and Super Storm Sandy in October 2012.