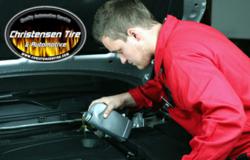 Richardson, TX (PRWEB) December 12, 2012
Christenson Tire & Automotive recently provided valuable information to car owners about the importance of getting a vehicle's factory recommended preventative maintenance at 30K, 60K and 90K miles. Preventative maintenance extends the life of a car by preventing the breakdown of important components. In addition, these factory recommended maintenance services are required to maintain a factory warranty.
Service that are typically performed in a 30K, 60K or 90K service include tire care and rotation, brake check, an oil change, belt and hose inspections, replacing the air filter, transmission service and numerous other services and inspections that will extend the life of the vehicle. The 90K maintenance has several system recommendations that have not previously been performed and are specifically designed to prevent costly repairs and breakdowns.
"Stop by the shop for all of your car's factory recommended maintenance," said Steven Christensen, owner of Christensen Tire & Automotive. "It is a good idea to have the maintenance taken care of during the winter months to ensure that all fluid levels are maintained and your windshield wipers and battery are in good working order so you don't get stuck out in the cold."
Car owners should refer to their vehicle's owner's manual to see if the manufacturer recommends any additional services. From oil changes to brake and tire care, Christensen Tire & Automotive provides full-service auto repair maintenance based on the vehicle manufacturer's recommended service intervals. For complete information about all Christensen Tire & Automotive services, visit their website at http://www.christensentiredfw.com.
About the Company:
Christensen Tire & Automotive has been in the same location serving Richardson for over 30 Years. Their route to success is being honest to all their loyal customers over the 30 year period. All of the employees work very hard to uphold their standards by putting customer satisfaction first. All invoices have a personal cell phone number on them, so if there is any issue, they can be contacted 24/7. For more information, please visit their website at http://www.christensentiredfw.com.