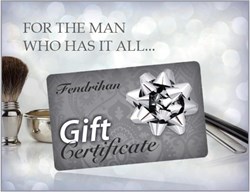 Toronto, Ontario (PRWEB) December 22, 2012
An online gift certificate can be an answer where a gift was not selected in time for holiday shipping. Shopping and shipping deadlines need not apply as the certificate is delivered via email, and when the gift certificate arrives the recipient can make his own gift decision.
Shopping for Christmas gifts for men can be daunting, but when time is short it can be even more stressful. An online gift certificate solves both problems. "With free Christmas shipping extended into 2013 for Canadian purchases over $50 and U.S. purchases over $75, the man who received the last-minute gift certificate from an online store such as ours can browse many men's grooming and lifestyle offerings and receive significant savings on shipping for the new year", adds K. Estredo, Director of Marketing for Fendrihan.com.
About Fendrihan:
Fendrihan is a Canadian-based online vendor that supplies elegant gifts for men as well as fine shaving and grooming products from all over the world. With a range of products that is constantly growing and expanding, it is no surprise that Fendrihan has an international following. The Fendrihan compendium also includes fine writing instruments and standout European leather accessories offering the organization and clever convenience demanded and appreciated by their customers.