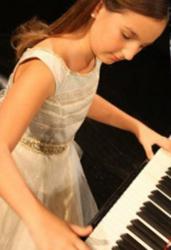 Santa Fe, New Mexico (PRWEB) December 10, 2012
Emily Bear, an 11-year-old composer and virtuoso pianist, joins the SFCA Orchestra in a concert featuring classical and jazz favorites and debuting some of Emily's own orchestral compositions from 5-7 p.m., Monday, December 24, 2012. Emily has been performing professionally since her debut at the Ravinia Festival in Chicago, when she was five years old. Since then she has appeared in concerts at The White House, Carnegie Hall, the Hollywood Bowl, and around the world. This event is featured on SantaFe.com, Santa Fe, NM's premier on-line magazine.
The SFCA Orchestra had been under the leadership of Joseph Illick since 2008, building a strong reputation as a band that plays with excellent ensemble, rich tone, and passionate sweep. The orchestra comprises musicians from northern New Mexico and visiting artists from Phoenix, Philadelphia, Washington, and New York.
Ticket Info
Purchase Tickets Online
Admission: $25
: $45
: $70
: $95
Student discount available
About The Lensic:
The Lensic Performing Arts Center opened as a nonprofit in 2001 following the restoration of the Lensic Theater, a cornerstone of downtown Santa Fe since 1931.
The Lensic:

Serves as a national model for a sustainable arts center—with its focus on performance, education and community programs.
Presents over 200 eclectic performances year-round, at affordable prices, delivering outstanding local, national and international talent.
Enriches public education by bringing more than 10,000 school children to the theater annually to see free performances of music, storytelling and dance.
Subsidizes local arts organizations, like the Santa Fe Concert Association, Santa Fe Symphony and Santa Fe Pro Musica by covering half of the rental fee for each group that uses the theater.
Offers its facilities to local nonprofits for free, or at a nominal cost, helping more than 160 organizations raise $1.7 million over 10 years.
Delivers best-in-class technical support capable of serving world-class organizations from traveling Broadway shows to the Moscow Ballet.
Sponsors a technical internship and scholarship program to train Northern New Mexico high school students in theatrical arts.
Serves as a home to the nonprofit Tickets Santa Fe, a community box office serving more than 35 organizations and venues.
About SantaFe.com:
SantaFe.com provides locals and visitors to Santa Fe alike the most current interactive platform for events, music, arts, business, dining and lifestyle. SantaFe.com is a division of Hutton Broadcasting, located at 2502 C. Camino Entrada, Santa Fe, NM 87507
Contact Information:
Scott Hutton
SantaFe.com / Hutton Broadcasting
http://www.santafe.com
(505) 471-1067 (Media inquiries only, please)