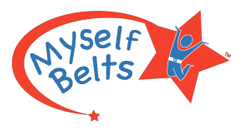 Saint Louis, MO (PRWEB) December 12, 2012
The holiday season shines a spotlight on those in need. Whether it's toy drives at school, canned food drives at places of worship, or the bell ringing for the Salvation Army, all around us there are those in need, and there are ways to help. This rings true for Myself Belts, a company selling an innovative, easy-to-fasten line of belts for kids and adults.
Myself Belts considers helping others to be an integral part of doing business. One of the owners, Talia Goldfarb, worked as a social worker for many years before launching Myself Belts; as a result, working with Head Start and other programs became a natural extension. Myself Belts donates kids belts to those in need throughout the year and usually makes a large donation to Dignity U Wear, an organization providing new clothing to children and to families. Myself Belts also has an ongoing charitable component through its website throughout the year. If a customer adds a book to their belt order, Myself Belts donates a belt to a child in the Missouri Head Start program.
Donating days are a highlight for the Myself Belts' employees, as it becomes a field trip. "We like to size the belts on kids personally to make sure the belts fit correctly and to make sure that the children get a style that they like", says owner Talia Goldfarb. "It is so fun to see the kids faces when they receive their new belt." There are times when a belt is sorely needed. Talia relates a story of having a boy come up to her to get his Velcro belt one day last year. When she went to put the belt on him, she noticed there was a wire holding his pants up to make them fit. She had to unwind this very carefully wound wire circling all the way around his pants to keep them up. Talia stated, "the parents had been inventive in their approach as they had left the front open so he could use the bathroom." Removing the wire and giving this young boy a brand new belt was a special moment for Talia. She realized Myself Belts wasn't just about fashion and function, but also about dignity and pride.
As the holidays approach the Myself Belts team is starting to go through their inventory to decide which toddler belts will be brought to the Head Start location for donations this year. It is an exciting time and one Myself Belts always looks forward to during this season of giving.