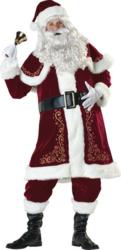 Our deluxe Santa suits have an unsurpassed level of detail
Los Angeles, California (PRWEB) December 12, 2012
The national Christmas tree was lit on Friday, signaling that the Holidays are upon us and Santa Claus will be coming to town shortly. Mooncostumes has put together a very special Christmas Costume collection for the 2012/2013 Holiday season. Including all of the classics like Santa, Mrs. Santa, an assortment of Elf's, Snowmen, Reindeer, and even a holiday pet costume collection for those wanting to allow their companions to join in on the Christmas spirit. For those looking for a simple and affordable Holiday Costume option, Moon has budget Santa Hats, Elf Hats and a Reindeer Ears headpiece.
We asked Mike Aronesty, owner of MoonCostumes what makes this years holiday costume collection so special. "Basically, we wanted to make something for everyone this year. We started with a large variety of Santa Suits and Elf's. All made available in both a Deluxe Theatrical quality and an Economy version for those looking for an affordable holiday costume option for work or family parties."
"Our deluxe Santa suits have an unsurpassed level of detail featuring rich faux rabbit fur trimming, jackets fully lined with satin, comfortable satin pants with real pockets and a deluxe wig & beard set."
Although the Deluxe outfits might be perfect for the holiday enthusiast, they might be a little too much work for those looking for a quick way to join in at a holiday work party or a night out with friends. Those wanting something affordable and easy to wear should look at Moons budget Santa hats or Reindeer ears which are both under $10 and probably the easiest way to join the festivities this year.
MoonCostumes doesn't just sell Christmas Outfits but also has a custom department which can make you a costume for any occasion, in any size to your exact specifications. They have a custom order form where you can submit photos, sizing information, select materials, and specify any additional details for your custom costume online. Moon also has the largest and most up to date catalog of Cosplay in the US.
Be sure to check out MoonCostumes at their retail location on the corner of Westwood and Pico Blvd in Los Angeles, CA. As always you can browse their extensive costume collection online or call for assistance.
Full Catalog available at http://www.mooncostumes.com
Moon Costumes
10867 W Pico Blvd.
Los Angeles, CA 90064
Phone : 401-COSTUME (401-267-8863)
Email : support(at)mooncostumes(dot)com