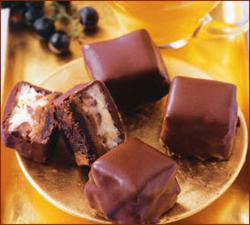 If you're planning a holiday party with hors d'oeuvres and drinks from a buffet table, mini desserts are the perfect solution to offering something sweet.
Arden Hills, Minnesota (PRWEB) December 11, 2012
There's something so appealing about anything in miniature form, and desserts are no exception. Tiny tarts, bite-sized brownies and mini pies with mouthwatering fillings are the perfect way to end a big holiday dinner with just a bite of something sweet.
"If you're planning a holiday party with hors d'oeuvres and drinks from a buffet table, mini desserts are the perfect solution to offering something sweet," advises Becky Wahlund, director of the Land O'Lakes Test Kitchen. "These small sweets are so much easier for guests to add to their plate than, say, a slice of pie or cake." Wahlund's group offered the following collection of tiny treats. All recipes are tested and approved by the Land O'Lakes Test Kitchen team.
Mini Tarts
"If you're planning on making one or more kinds of mini tarts for the holidays, you might want to look for a tart tamper to help form the crusts," advised Wahlund. "A tamper lets you easily push balls of dough into the inside of mini muffin pan cups for uniform thickness and less breakage when removing the tarts from the pan. Specialty cookware shops generally carry tart tampers in several sizes."
"Our Caramel Peanut Mini Tarts are really rich tasting. Cream cheese is the secret ingredient in the tart crust. Mini Pumpkin Tarts are a bite sized take on pumpkin pie, and if you don't have or can't find pre-made Pumpkin Pie Spice, we provided instructions for making your own," said Wahlund. "Finally, Easy Fruit Tarts can be made in just minutes. There's no crust to mix – you use mini phyllo shells – then just fill with flavored cream cheese and top with fruit."
Brownie Pops
"Small desserts on a stick are convenient for party guests trying balance plates and glasses, and these Brownie Holi-Pops and Gingerbread Cookie Bites can work as a cute centerpiece for your table too," said Wahlund. "Use craft foam and lollipop sticks to create an arrangement in a small pail or pot, and decorate with your party colors for an easy, edible centerpiece."
Cheesecake Bites and Mini Whoopie Pies
"The combination of caramel and chocolate is put to great use in our Chocolate Caramel Cheesecake Bites and Mini Chocolate Whoopie Pies with Salted Caramel Filling," said Wahlund. "Both of these desserts are great with coffee to set off all of the rich flavors of chocolate and caramel. Take care when you are mixing the cheesecake batter," cautioned Wahlund. "Overbeating incorporates too much air which causes cheesecakes to rise during baking, then fall and crack during cooling. Beat the ingredients just until they are blended for the best results."
Gluten-Free Mini Desserts
"Finally, with so many people going gluten-free, guests are sure to appreciate a dessert tray with some gluten-free options," said Wahlund. "Our Chewy Holiday Macaroons and French Holiday Truffles are naturally gluten-free, and really delicious. You'll want to be sure your gluten-free guests get a heads-up before these little treats disappear from the table!"
For more mini dessert recipes, plus cooking and baking tips, visit landolakes.com.