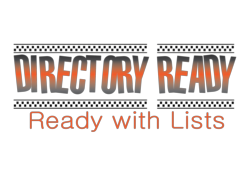 Offering a Great Christmas Discounts of upto 50% For Directory Listings
(PRWEB) December 12, 2012
Directory Ready is a famous Master Web Directory of Directories and websites. This Provides service of listing Web Directories and contain assorted websites useful for SEO link building purposes, belonging to all sorts of niches, subjects, topics and businesses floated online. This has been incorporated for the very purpose of serving the online visitors as a Guide, to reach the desired website instantly through the Search Engines, by its listing services. The Search Engines crawling over the World Wide Web, as soon as a searcher types the keywords for identifying among the millions of websites out there, and picking the right cluster of websites relating to the keywords for projecting before the net-visitor, approach the Master Web Directories like Directory Ready at the very first instance.
This way Ready has been serving the online community earnestly, with its numerous listing services. Already the listing services extend beyond the normal types of web directories such as General, Free, Paid, Niche, Article, Deeplinks and more. Plus the innovativeness of this master directory reflected in its standing out of the crowd, by researching net-visitors' needs and aspirations, and adding up many Lists of Websites, under available categorization of peers in this field.
In order to encourage more website owners, web masters desirous of purposeful SEO Services and website owners, during this Christmas festive season, have come up with the novel promotion of offering specialized limited-time great discount.
The Good News of offering a Great Christmas Discount of upto 50% has been announced by the Directory Ready today for listing websites under the Top Directories namely GreatDirectory, Designxf, botid and HotVsNot . For availing this never-before "Christmas Offer" of upto 50% Discount for each of the Top Directories, the website owners can make use of these separate offer code or Promotion Code or Coupon Code.
For websites to be listed in GreatDirectory.org also to get 50% off using Promo Code or Coupon Code XMASGD50 .
For listing websites in Designxf.com with the Promo Code or Coupon Code DXF50CHRIS get 50% off.
For listing websites with the 10 years old HotVsNot, the Master Directory of Directories, announced a Permanent discount of 20% for all listing services commencing from this Christmas Season. The coupon code to be used by the website owners for listing their websites under HotVsNot.com will be DRD20HVN.
For websites to be listed in Best of the internet directory botid.org get Permanent discount of 5% using Promotion Code or Coupon Code is DRD20HVN.
About Directory Ready:
This Master Directory Ready, which is a Service Site for providing innumerable opportunities to make their online presence widely popular among the entire net-world population. The numerous listing services from out-of-the-ordinary websites such as – List of Social Bookmarking Sites, Article Sites, Photo-sharing Sites, Video Sharing Sites, GSS Gallery Sites, Classified Sites, Press Release Sites and so on make all the difference in escalating the SEO Services, by website owners, web masters engaged in SEO Services. Right from the inception, the categories for listing websites has been increasing by and large, giving larger scope for multiple listing of websites in a wider spectrum of niches and subjects, to attract visitor traffic in volumes. Customers can benefit enormously by the basic listing service and the present "Christmas Offers" of cost reduction sizably.