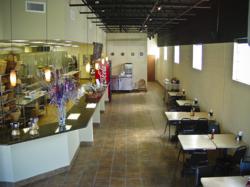 The open-concept kitchen is part of an overall customer focused strategy.
Dallas, TX (PRWEB) December 12, 2012
Customers have always come first with Corporate Chef Catering. So when the company expanded into a new facility in Dallas, it wanted to bring customers into the food prep experience with an open-concept kitchen. "We are very conscious of consumer trends in the food industry," says Miguel Frascella, president of Corporate Chef Catering. "Cooking shows have been growing in popularity over the last five years, and people like to know how their food is being cooked. We wanted our customers to feel comfortable ordering from us, so we decided to build an open concept kitchen so there is no mystery to how their food is prepared. We take pride in the fact that many people have told us that they have never seen such a clean and efficient kitchen operation."
Corporate Chef Catering is one of the only catering companies in DFW that offer clients a look into their kitchen and food prep processes. The open-concept kitchen is part of a new 5000 sq. foot facility for the fast-growing company, who recently doubled its personnel. Corporate Chef Catering also doubled their kitchen space, using 3000 sq. feet for the new state-of-the art kitchen and storage while their lunch time restaurant occupies the rest of the space.
The open-concept kitchen is just part of Corporate Chef Catering's overall customer-focused strategy. Recognizing that customers want healthy additions to their current catered events, the company plans to debut a new "Fit Menu" in 2013. The menu will emphasize top quality nutritious items, like specialty whole grains and more low fat and low sodium options. "We're passionate about the fresh food we eat and about a healthy diet," said Robyn Frascella, who is certified in Culinary Nutrition and the Executive Chef at Corporate Chef Catering, "And we want to offer that to our customers."
About Corporate Chef Catering
Corporate Chef Catering has been serving the corporate catering needs of Dallas since 1993. The company was started by Miguel and Robyn Frascella who together have over 40 years of catering and food service experience. Corporate Chef Catering provides corporate catering menus, holiday menus, wedding and hors d'oeuvres and specialty menus. Visit mycorporatechef.com for more information.