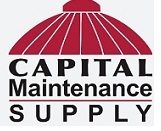 Raleigh, NC (PRWEB) December 11, 2012
Capital Maintenance Supply, a new distributor of maintenance supply products, has opened its doors for business with an emphasis on a digital platform that enables clients to perform direct orders over the Internet.
Among other products, the company offers environmentally safe melting products for ice and snow, products for concrete patching, concrete cleaners, products for asphalt and blacktop care, bonding and filling products, sealers and coatings for floors and walls, liquid cleaning products, rust converters, and products for roofing.
Cleaning products offered are biodegradable, can do the job of petroleum based cleaners, but are non-toxic and safe for the environment.
Clients receive updates on new products and item availability via digital feeds on the Capital Maintenance Supply website. This tool enables a client to preserve time and resources when conducting searches and managing orders.
Based in Raleigh, North Carolina, Capital Maintenance Supply ships their products for delivery throughout the continental United States, using UPS Ground service, freight, and LTL shipping. They strive for the best freight rates available and work frequently with freight companies which provides the company with a volume based discount. Clients may also elect to employ their own shipping carrier.
Clients create and manage their ongoing order with Capital Maintenance Supply online with their account on the company's website which is http://www.capitalmaintenancesupply.com.
Prospective clients may reach the company and its President Amy Russo by phone at 866-561-9932 or by fax at 866-475-6673.