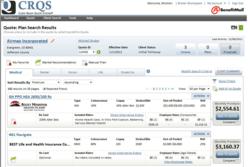 "It is very clear this system was designed with the agents' needs in mind," said Tabra Mumm of Benefits Incentive Group.
(PRWEB) December 11, 2012
BenefitMall, a leading Broker services company in benefits and payroll, introduced a nation wide launch of the foremost quoting and proposal tool for employee benefits - Client Ready Quote System® (CRQS) 2.0. In comparison to other online benefit quoting tools, CRQS 2.0 offers more features, industry-leading technology and robust Carrier content at both the national and state level. CRQS 2.0 gives BenefitMall Brokers a technological advantage, thus enhancing client relationships and reliability.
"We are very excited to launch the new Client Ready Quote System which is designed and developed specifically with our Brokers, for our Brokers. With its modern user interface and enhanced shopping capabilities, the new quoting system provides a simple platform to shop, compare and present affordable health insurance plan options, meeting the needs of small businesses and their employees," commented Michelle Sheffield, BenefitMall's Chief Information Officer.
Easy to use and navigate, CRQS 2.0 first-time users will experience a simply crafted, step-by-step online shopping experience to create multiple customizable options. Similar to booking airfare or creating a hotel reservation, this online tool uses all the same Web functionality Brokers are accustom to using. With intuitive quoting, accurate rates and custom proposals, Brokers and their clients alike can expect the best of the best in:

Comparison reporting
Real-time, single-step searches and rating
Customizable "favorite" lists and market recommended plans
Expansive Carrier content
On-the-go iPad compatibility
After conducting usability testing sessions with Brokers across the country and reviewing the results, BenefitMall crafted an online system Brokers crave to use and employers see working in the best interest of their employees. "It is very clear this system was designed with the agents' needs in mind," said Tabra Mumm of Benefits Incentive Group.
CRQS 2.0 provides Brokers and their clients a tool that supplies a cutting-edge advantage over competing online quoting and proposal systems. With Brokers' needs and the constantly changing health care industry at the forefront of all purposeful improvements, BenefitMall continues to strive to lead the pack in technology and customer satisfaction.
To learn more about CRQS, please visit http://www.benefitmall.com and become a BenefitMall Broker today.
About BenefitMall
Headquartered in Dallas, Texas, BenefitMall is the fastest-growing provider of integrated payroll and employee benefit products and services. It serves more than 160,000 businesses, representing 2.5 million employees and their dependents.
BenefitMall and CompuPay merged in 2012 through equity financing led by Austin Ventures.
BenefitMall works with a network of 20,000 independent insurance brokers to offer thousands of health care plans from more than 125 leading insurance carriers. CompuPay, a BenefitMall company, is the second largest privately held payroll company in the U.S. providing payroll services, including workers' comp, retirement plans, and Section 125 and 132 plans.
More information about the company is available at http://www.benefitmall.com and http://www.compupay.com