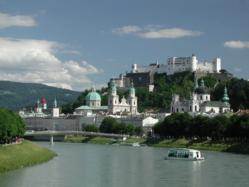 "It was fantastic…The cities selected and the hotels we stayed at were wonderful, with excellent locations." - Michael Hurley, New Orleans, LA
Greensboro, NC (PRWEB) December 12, 2012
Walking in the footsteps of Beethoven, Mozart, Dvorak and others is a magical experience. In Mozart's Footsteps announces a new Music Lovers Trip for 2013, featuring travel to Salzburg, Vienna, and three optional days in Prague.
The May 24-June 2 travel adventure begins with three days in Salzburg, then on to Vienna for five days. Tour highlights include:
Salzburg:

Two Mozart museums
The Sound of Music Tour
Walking tour of Salzburg led by a local guide
Vienna:

Vienna State Opera House
Vienna's Central and St. Mark's Cemeteries (graves of Beethoven, Brahms, many others)
Vienna's Collection of Ancient Musical Instruments
Walking tour of Beethoven's Heiligenstadt
The Vienna Philharmonic Orchestra at the Schönnbrunn Summer Concert
An orchestral concert at the Musikverein
"Die Fledermaus" at Vienna's Volksoper
Walking tour of Vienna led by a local guide
The three optional days in Prague include a walking tour of the Old-Town Square to the Charles Bridge, a guided walking tour of Prague, a tour of the Antonin Dvorak Museum and lecture on Dvorak by one of the world's foremost Dvorak scholars, and a trip to the Czech Museum of Musical History. Additional musical performances will be announced.
In honor of Beethoven's birthday in December, In Mozart's Footsteps will award $200 in Euros to travelers who sign up for the Music Lovers Tour by December 31.
About In Mozart's Footsteps
In Mozart's Footsteps founder and guide, Dr. David Nelson, is a music professor who has been leading trips to the musical capitals of Europe for almost 20 years. Travelers are overwhelmingly pleased with his expertise, informal and caring service, and flexibility to the needs of the groups, which generally number from 15 to 25 people. "I love sharing the magic of the performances, history and culture in these beautiful cities," commented Dr. Nelson, "Many of my travelers find it a life changing experience."
###