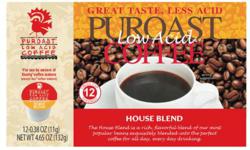 We believe Puroast has all the qualities of a great functional beverage, delivering both superb taste and quantifiable health benefits."
Woodland, CA (PRWEB) December 11, 2012
Puroast Low Acid Coffee® is now available in single serve brew cups, compatible with Keurig® brewing systems. The company's top selling House Blend and Dark French Roast are their first single serve flavors to hit the shelves.
Alongside the single serve rollout, Puroast® is announcing the results from their latest research. The University of California, Davis analyzed Puroast Low Acid® and other leading single serve coffee brands for pH levels and acid composition. The study concludes Puroast® to have 70% lower acid than the average of all labels tested. Coffee brands analyzed in the research include Puroast, Starbucks®, Folgers®, Green Mountain® and Dunkin Donuts®.
"Our labs were the first to conduct and publish on acid composition of various US commercial coffee brands", says Dr. Taka Shibamoto, who headed the UC Davis research team, "Puroast has approximately one third the acid of the brands tested using the Keurig® brew method, which is in fact lower than that shown in the drip brew method from our original published study."
A second phase of this research is now underway, which is aimed at determining Puroast's relative anti-oxidant value in comparison to other brands. " A separate finding from the UC Davis analyses is the relative high concentration of phenolic compounds in Puroast", states Puroast CEO Kerry Sachs, "Indications are that Puroast could have up to twice the anti-oxidant value of other coffees, which obviously would be a significant development. We believe Puroast has all the qualities of a great functional beverage, delivering both superb taste and quantifiable health benefits."
The company uses a proprietary process to produce their gourmet coffee – he low acid attribute comes from a unique roasting method, not through additives, extracts or substitutes. "Puroast's low acid benefit and gourmet, full-bodied taste are the keys to our success", according to Puroast president James Sachs, "a large percentage of our customers don't have acid reflux or heartburn, and a common testimonial from them is 'it's great coffee and why have the acid if you don't have to'."
Kroger Stores are First-to-market with Puroast's single serve; the product is found in Kroger's and their affiliated store's, King Soopers, Fry's, Dillon's and City Markets Nature's Market section.