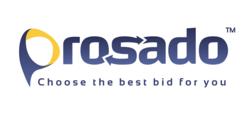 This is a win-win for consumers and tax preparers alike. - Glen Ross, CEO
Smithtown, NY (PRWEB) December 18, 2012
Described as a "game changer for tax preparation," newly launched website http://www.prosado.com offers a convenient, one-stop hub for customers to find and be connected with a tax preparer.
Prosado allows customers to create a free account and submit basic information about their tax documents. They can then search a virtually unlimited number of tax preparers and select their perfect match based on education level, location, years in business, language(s) spoken and star ratings from other prosado.com customers. No personal information is exchanged until a customer accepts a preparer's bid. If, after accepting a bid, the customer isn't happy with the chosen preparer, prosado.com offers a generous cancellation policy.
Tax preparers can join prosado.com by paying a nominal annual membership fee. They then have the ability to bid for the best price to complete a customer's tax return, and have full control over the amount they bid. They can also see the current lowest bid to determine if they would like to rebid.
Prosado offers tax preparers unprecedented access to customers seeking their services. For tax preparers that have always found it difficult to obtain new business, potential clients are brought to them. Prosado also makes competing with national franchises easier because of the perceived lower cost of such establishments. The consumer can quickly and easily find out that a local CPA is willing to do the work for less.
Glen Ross, CEO and co-founder, says this is a win-win for consumers and tax preparers alike. Never before has a website made this type of connection, while driving down prices. "We like to stress that Prosado is about the best bid for the individual and not necessarily the lowest bid. This is why we say: choose the best bid for you," stated Mr. Ross. "Some people are very concerned about a tax preparer's education level or his/her years in business and are willing to pay a little more for that comfort. This is what Prosado is all about."
Prosado has launched a soft national marketing campaign to the preparer community and will be rolling out a full campaign, to both preparers and consumers, in the coming weeks.