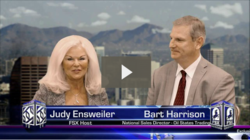 Oil & gas provides a great inflation hedge.
(PRWEB) December 11, 2012
FSX held their 117th Quarterly Conference from October 25-27 in Phoenix, Arizona. During that Investment Conference companies granted exclusive interviews giving insight into their companies. Judy Enseweiler, FSX Executive Director, interviewed Bart Harrison, National Sales Director of Oil States Trading. During this interview Harrison explained the Oil States Trading business model. They buy fractional ownership interests in hundreds of oil wells and manage those interests to produce income. Harrison stated that "Oil & gas provides a great inflation hedge." Harrison added that Oil States Trading has a well-diversified portfolio and that they provide a more conservative way to invest in oil & gas as they are not predicting future prices. "We just believe in energy moving forward." summarized Harrison. The complete interview is available only on FSX Interlinked's Web Channel, an on demand Video Channel that offers a glimpse into their private network of Partners and Companies.
Oil StatesTrading explains that as non-operated working interest owners, they are not responsible for the direct day-to-day operations of their properties. They do not need a large workforce that requires salaries and benefits. They do not need to purchase or maintain equipment. Therefore, their oil and gas assets cost very little to manage and their overhead is minimal while still receiving all the benefits of ownership. In addition, non-operated working interests are plentiful and can oftentimes be acquired for tremendous value. Low overhead and attractive bottom line acquisition opportunities set the stage for profit potential.
About Oil States Trading & InterlinkedTV
Oil States Trading is a privately held asset management firm that specializes in acquiring and managing non-operated working interests in producing oil and gas properties. Since the company's inception in 2005, our portfolio has grown to include ownership positions in hundreds of leases in multiple states throughout North America. Small ownership positions provide us flexibility to respond to acquisition and divestment opportunities as they arise.
InterlinkedTV.com is an internet video production and distribution site dedicated to private enterprise, venture capital news, and investment events. We are bringing you this exclusive content through our partnerships with conferences, investment events, companies and IR firms.