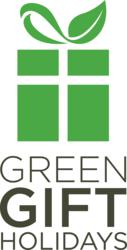 Arlington, VA (PRWEB) December 11, 2012
For the third consecutive year, The Nature Conservancy is encouraging consumers to go green during the holiday season. Formerly known as Green Gift Monday, this year's campaign to green the season has been rebranded as Green Gift Holidays to encourage eco-friendly celebrations the whole month long.
Join us in raising awareness by promoting green, responsible giving and celebrating options for the holidays—like purchasing energy-efficient products, creating a do-it-yourself project, donating to a charity in a gift recipient's honor or hosting an eco-friendly party. The Green Gift Holidays website is a great resource for all things seasonal, from recipes to choosing the perfect Christmas tree.
The Green Gift Holidays team is asking blogs, nonprofits and retailers to join the movement and promote the concept through their own channels. Interested? Here's how you can help:

Write a blog post in support of the day and include a link back to our hub page—contact us at greengiftmonday(at)tnc(dot)org and let us know, and we'll link to your post on our website!
Ask your audiences how they plan to green their holidays.
Promote green giving and celebrating through social media. Use the hashtag #greenholidays.
For more ideas on going green this holiday season, visit the Green Gift Holidays website. To shop from our selection of green holiday gift options—from adopting acres of land around the country to purchasing solar ovens for communities in Haiti—visit The Nature Conservancy's gift guide.
###
The Nature Conservancy is a leading conservation organization working around the world to protect ecologically important lands and waters for nature and people. The Conservancy and its more than 1 million members have protected nearly 120 million acres worldwide. Visit The Nature Conservancy on the Web at http://www.nature.org.