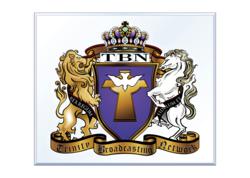 Just like we witnessed that evening 35 years ago at Hollywood and Vine, Hallelujah Hollywood is all about doing the work of the gospel.
(PRWEB) December 11, 2012
Thirty-five years after an informal gathering of over 10,000 people at Hollywood and Vine sparked the spontaneous "Jesus" event known as "Hallelujah Hollywood," Trinity Broadcasting Network, cross-carrying street evangelist Arthur Blessitt, and a team of area ministries will gather at Hollywood High School on December 15 for Hallelujah Hollywood 2012.
In addition to street evangelism and an evening taping of TBN's signature Praise the Lord show at the Hollywood High School auditorium, the event will feature the large-scale distribution of food, toys, and winter clothing to individuals and families from throughout the Hollywood area.
Arthur Blessitt, known for years as the "Minister of Sunset Strip," recalled how the original Hallelujah Hollywood came together:
"One night in the summer of 1977 I was a guest on TBN's Praise the Lord show, where I shared with Paul and Jan Crouch about how I had been carrying a 12-foot wooden cross around the nation and world as a witness for Christ. I also did a lot of outreach on Hollywood's Sunset Strip, where in 1968 I had opened a coffee house called His Place. That night on the air I invited Paul, Jan, and TBN viewers to join me that Friday, July 29th, 1977, as I walked the Strip, sharing Christ with street people, drug addicts, prostitutes, partiers, and whomever else I met.
"I fully expected just a handful of people to join the Crouches and myself that Friday evening, but when I got within just a few blocks of Hollywood and Vine I found the sidewalks packed with thousands of people who had accepted my informal invitation. As I met up with Paul and Jan, we were deluged with a glorious pandemonium of over ten thousand people of all ages excited to be a part of sharing Christ. As the police moved into action to try to bring some kind of order, I quickly sent people back to my office to get gospel materials. That night we handed out 74,000 Jesus stickers and 40,000 gospel tracts, and many people came to Christ. It was a night I will never forget!"
TBN Vice President Matt Crouch, who produced an award winning documentary film on Arthur Blessitt's life entitled The Cross, said the December 15th Hallelujah Hollywood will maintain the same focus as the original event 35 years ago. "Yes, this time we're better organized and have the blessing of city officials," Crouch quipped. "But the spirit will be the same as that night Arthur led an army of evangelists down Sunset Strip. It will be thousands of people coming together to minister life to those in need."
Hallelujah Hollywood 2012 will kick off at 2 p.m., Saturday, December 15 at the Hollywood High School football field with the giant community food, clothing, and toy distribution organized by area ministries, including the Los Angeles Dream Center, Hollywood's Oasis Church, and Victory Outreach.
At 4:30 Arthur Blessitt will shoulder the cross he has carried around the world over the past 40 years, leading hundreds of participants in an evangelism outreach through the streets of downtown Hollywood similar to the original Hallelujah Hollywood of 1977.
The day will be capped of with a special taping of TBN's Praise the Lord show at 6:30 p.m. at the Hollywood High School auditorium. Hosted in part by TBN founder and president Dr. Paul Crouch, the evening will feature Arthur Blessitt, NFL great Rosey Grier, evangelist Nicky Cruz from The Cross and the Switchblade, Pastor Sonny Argunzoni of Victory Outreach, and Matthew Barnett of the Los Angeles Dream Center.
"Just like we witnessed that evening 35 years ago at Hollywood and Vine, Hallelujah Hollywood is all about doing the work of the gospel," said Dr. Crouch. "It's caring, sharing, and giving, all as a witness for Jesus and for God's glory. We're anticipating great things for the kingdom."
To find out more about Hallelujah Hollywood, visit http://www.tbn.org or http://www.blessitt.com.