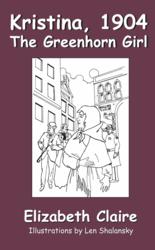 ... many heartwrenching twists and turns along Kristina's journey from her faraway home to travel to America all alone. There's great humor in this book too -- I enjoyed the 'bananna story' the most! Nadine Simms
Virginia Beach, VA (PRWEB) December 15, 2012
Kristina, 1904, The Greenhorn Girl tells the dramatic story of a 14-year-old girl who came to America from Slovakia more than a hundred years ago. Kristina's story demonstrates that while travel, technology, and native country origins have changed, the reasons for coming to America, the struggles and sacrifices to be made, and the courage it requires of a new immigrant are still quite similar.
Kristina, 1904, the Greenhorn Girl is the first novel newcomers read in hundreds of intermediate classes for students of English as a second language across the United States.
With all the multicultural materials in education today, recent newcomers might not realize that their white English-speaking neighbors' great grandparents went through many of the same experiences that they themselves face as newcomers: confusions, feelings of loneliness and homesickness, as well as the difficulties of learning English, the mistakes and the embarrassments. Just as they are today, immigrants then were victims of prejudice and exploitation.
Story: Kristina is the oldest child of a large, very poor family in Slovakia. She arrives in America after a harrowing voyage in steerage, a nerve-wracking set of examinations at Ellis Island, and a tearful reunion with her mother, who had pioneered the way to the U.S. two years before.
Kristina's first job as a live-in babysitter and dishwasher at $4 a month leaves her still hungry at the end of the day. At her next job as a live-in maid, although she is better paid, she cannot communicate with the demanding French-speaking wife of her German employer as they have no common language. Kristina is always overworked and in constant danger of being fired for misunderstandings and mistakes.
When Kristina's father is in an accident back in Slovakia, her mother must leave the U.S. At age 15, Kristina faces living in America without the guidance of either parent. A surge of torn emotions causes Kristina to collapse. She awakens with a new comprehension of her responsibilities in keeping the family alive by staying at her job. On her fifteenth birthday, she waves goodbye to her mother but says hello courageously to her future in the United States.
Based on a true story, with details of life in 1904 from extensive research, Kristina, 1904 was vetted for historical accuracy by a librarian at the Ellis Island Museum.
In addition to being an engaging page-turner, Kristina, 1904: the Greenhorn Girl offers many teaching opportunities for classroom discussion of students' own immigrant experiences plus geography, history, economics, customs, laws, language, social mobility, and the power of a dream. Kristina's experiences and strong emotions will be cathartic for students in classes of English as a second language.
The Kindle version sells for $4.00, the paperback edition for $12.
Eardley Publications, founded in 1980, specializes in materials for students and teachers of English as a Second Language. Eardley is located at 2100 McComas Way, Suite 607, Virginia Beach, VA 23456.
You can read a sample chapter of Kristina, 1904, the Greenhorn Girl and more about author Elizabeth Claire at her website, elizabethclaire.com. You can contact Ms. Claire at ESL (at) elizabethclaire (dot) com