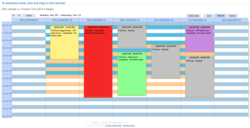 Our resource calendar tool was designed with an intuitive interface for managing reservations all while handling complex rules
Boston, MA (PRWEB) December 11, 2012
iLab Solutions, the leader in core facility management software, announced today that more than 100,000 scheduled events have been processed through its web-based platform. With the use of iLab, researchers can find all institution-supported or partner-supported services in one central location, allowing them to reserve time at more than 400 core facilities worldwide.
"Our resource calendar tool was designed with an intuitive interface for managing reservations all while handling the complex rules that cores often require to meet the needs of their customers," said iLab Chief Software Architect Andreas Hagen.
iLab works closely with each of its clients to develop solutions to meet their varied needs. Its flexible calendar system allows cores to place complex rules around cancellations, pricing, access levels, and approvals as well as monitor logged time against scheduled reservations. This usage data is automatically communicated to the iLab application server for accurate billing.
"We are excited for the many core facilities that have helped us reach this milestone by successfully processing 100,000 events using our system," Hagen added. "We look forward to continuing to work with them in developing more features and enhancements to further assist them in serving their customers."
iLab also recently announced that more than $100 million in scientific requests have been processed through its system.
For more information on iLab's core facility management software, please go to http://www.ilabsolutions.com or contact Alicia Cravens at +1-617-297-2805 or alicia.cravens[at]ilabsolutions.com.
About iLab: iLab Solutions is the global leader in providing web-based core facility management services to academic research institutions. The functionality includes request management, equipment reservation and usage tracking, project tracking, billing and invoicing, and reporting. iLab has extensive experience providing enterprise-level solutions at major research institutions, including integrations with institutional financial systems (e.g., SAP, Oracle, PeopleSoft, Lawson, Banner, IFAS, etc.) and identity management systems (e.g., Active Directory, LDAP, Shibboleth, etc.). iLab's dedicated implementation team and full customer support result in high adoption rates. Over 400 core facilities across more than 45 institutions in North America and Europe rely on iLab, including universities, hospitals, independent institutes, and government labs.