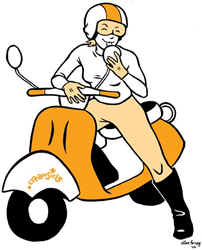 "This fundraiser has the potential to collect $25,000 while bringing international exposure to the artists through events produced in 27 countries using Brown Paper Tickets.
Seattle, WA (PRWEB) December 11, 2012
Brown Paper Tickets has produced 100,000 Artist Tickets adorned with works of art donated by nationally-recognized Seattle artists Ellen Forney and Jim Woodring. Artist Tickets feature an original work of art on an event ticket, offered for a 25-cent donation to Victims of the Cafe Racer Shooting Memorial Fund. The fundraiser has the potential to collect $25,000 while bringing international exposure to the artists through events produced in 27 countries using Brown Paper Tickets. An Artist Ticket Launch Party and benefit at Café Racer will be held this Thursday, Dec. 13.
"As Seattle artists, musicians and people who love live events, our team was deeply affected by what happened at Café Racer last May," said Jimmy Berg, Outreach Specialist at Brown Paper Tickets. "We had already decided to create the Artist Ticket to elevate the work of local artists, while inspiring giving and helping a community in-need. This tragic event struck a chord with us; we knew it would be the perfect cause to launch the program, as it would be a way for us to easily help the Café, the lone survivor and the families of those that were killed."
"The community spirit of giving has really helped with the healing process," said Nancy Neyhart, organizer of the Victims of the Café Racer Shooting Memorial Fund. "The generosity of this gesture by Brown Paper Tickets is inspiring, and you will also have a really cool ticket."
"Approximately 70 percent of Seattle events on Brown Paper Tickets benefit a nonprofit, and ticket stubs help people to savor the memories of live events," said Berg. "We believe that ticket buyers for nonprofit events around the world won't hesitate to give 25 cents to help the victims of the tragedy, especially in exchange for a ticket-stub keepsake featuring a great, original work of art."
New York Times Best Seller's List author and artist Ellen Forney, and nationally-acclaimed artist Jim Woodring each donated an original work of art to this innovative fundraiser because they wanted to help the Café Racer community. Both artists will give readings from their current books and personally autograph the Artist Tickets at an Artist Ticket Launch Party on Thursday, Dec. 13. The party will include sets by The Bad Things, Baby Gramps and Lonesome Shack, as well as by performance artist Queen Shmooquan. The emcee for the event will be Sylvia O'Stayformore. All proceeds from this "pay what you can" event will go to the Victims of Café Racer Shooting Memorial Fund. Artist Tickets can be purchased online at: http://www.brownpapertickets.com/event/301526.
"Supporting artists and other communities that have a connection to us, and inspiring giving to our neighbors and communities in need are a part of the core values of our Not-Just-For-Profit business model," Berg said. "There is no other ticketing company in the world that builds communities in this way, as an integral part of doing business."
About Brown Paper Tickets: Brown Paper Tickets (http://www.BrownPaperTickets.com), the Not-Just-For-Profit ticketing company, revolutionized the industry by putting free, professional tools for ticketing any-sized gathering on the Internet, and continues to champion the rights of ticket-buyers with the lowest fee for the most service in the industry. The company donates 5 percent of the profit from each ticket sale to build communities and nonprofits, pays its employees to work 40 hours each year for the cause of their choosing, and employs a team of "Doers," experts in industries such as music, new media, makers, roller derby and more, to fix, improve and revolutionize the communities where we live, work and play.