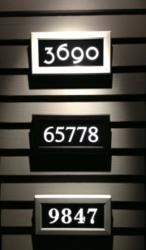 A street address should be easy to find in the dark.
Seattle, Washington (PRWEB) December 12, 2012
For many homeowners, the decorating efforts they employ are solely focused on the interior spaces they inhabit. A new product from Address LED offers homeowners, decorators and designers another avenue for expressing their unique design sensibility. Address LED weatherproof lighted street address signs provide an elegant, yet practical solution to an age-old problem - How to find a street address in the dark?
The energy-efficient, sustainable design illuminates a residential or commercial street address within a compact, weatherproof aluminum frame, measuring approximately 12 inches by 6 inches. LED solid-state technology provides an estimated 50,000 hour lamp life – ensuring many years of trouble-free use.
Designers and decorators will appreciate the variety of design options available to them when trying to match exterior paint or trim colors. The website for the weatherproof street address signs offers three (3) frame color choices – white, silver, and black – ten (10) unique fonts – modern, traditional, script, etc - and eight (8) vivid background colors. The lighted address design options will fit in well with a broad range of architectural styles from traditional to modern.
Landscape architects, designers, and contractors will like the weatherproof functionality of the illuminated signs. The product can be added to an existing low voltage landscape lighting design to provide elegant street address lighting. The varied design options are sure to fit in well with a variety of lighting fixtures currently used in landscape lighting configurations. The low voltage (12 volts) product is sold online with a 1 year warranty.
The weatherproof design also allows the illuminated street address sign to be installed off the porch and closer to the street – a benefit for property owners set back from the road. The lighted address signs can be mounted on a pole, post, fence, tree, detached garage, or outbuilding. The lighted house number sign can be installed using simple hand tools.
Customers aren't limited to just street addresses with this product. They can customize the back lit signs to display personalized messages such as - family name, boat house, pool house, private property, no trespassing, etc.
Address LED was designed by Chris Barnett of Bainbridge Island, WA. He developed the idea while working at JQB Design, an award-winning yacht design firm located in Seattle. "I've gained invaluable experience working with custom LED lighting fixtures designed for the marine environment. I wanted to create a product with the same pedigree, at a reasonable price point for the residential market ."