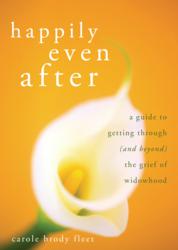 Learning to live happily after the experience of devastating loss is among the most important lessons that can ever be taught.
—Marci Shimoff, Chicken Soup for the Woman's Soul
(PRWEB) December 11, 2012
Happily Even After: A Guide to Getting Through (and Beyond) the Grief of Widowhood is in the running for the Relationships Books for a Better Life Award.
Brenda Knight, Associate Publisher of Viva Editions, acquired Happily Even After having experienced widowhood herself said, "This is the book I wish I had at the time. I feel incredibly proud of Carole's book, essential reading for anyone experiencing grief. Now it can get to many more people who need it thanks to the National Multiple Sclerosis Society. Our intention all along was to get this book to widows, young and old, as well as "widows of the heart," partners not in legally joined relationships. Carole's heart, humor, and practical guidelines cover everything from finances, dealing with children, living single in a couple's world, and more. Carole's courage in sharing her own experiences and those of others is invaluable to anyone who's lost a spouse or life partner."
About the Book
The issues that surround the loss of a spouse are numerous and complex. The widowed must find a way to accept and deal with conflicting and confusing emotions while being expected to "carry on and carry forward." They must also adjust financially and legally and be available to children that inevitably look to their surviving parent for guidance and support. Happily Even After answers the most common questions that the widowed have, both immediately following a spouse's death and in the months and even years after. In her warm, witty, and wise tone, Carole walks widows through the shock and overwhelming sadness and back into the land of the living. Whether a young woman in the early years of a marriage, a golden anniversary celebrant, or a "widow of the heart" who lost a significant other with no legal claims, Fleet offers practical tools.
About the Author:
Carole Brody Fleet is Founder and Chief Executive Officer of Widows Wear Stilettos, Inc. Widely recognized as a leader and expert in the areas of grief and loss recovery, Ms. Fleet is a regular guest on national and international TV and radio shows. She has been featured in many magazines, newspapers and websites, and is recipient of the Embrace Life Award from State Farm Insurance Companies and the Board of Directors Outstanding Service Award from the Soaring Spirits Loss Foundation. She is also one of Huffington Post's most popular bloggers. Carole Brody Fleet resides with her family in Southern California.
About the National Multiple Sclerosis Society, the founder and sponsor of the Books for a Better Life Award:
Since its inception in 1996, Books for a Better Life has recognized more than 650 self-improvement authors and has now raised more than $1.9 million for the New York City - Southern New York Chapter's comprehensive support services and educational programs for people living with MS, their friends and families. The Awards recognize self-improvement authors whose messages are aligned with the chapter's mission of inspiring people to live their best lives. The National MS Society is a collective of passionate individuals who want to do something about MS now—to move together toward a world free of multiple sclerosis. MS stops people from moving. We exist to make sure it doesn't. We help each person address the challenges of living with MS through our 50-state network of chapters. The Society helps people affected by MS by funding cutting-edge research, driving change through advocacy, facilitating professional education, and providing programs and services that help people with MS and their families move their lives forward.