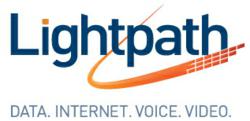 Jericho, NY (PRWEB) December 11, 2012
Nine New Jersey schools will have the opportunity to roll out ambitious new technology-driven learning programs as a result of $75,000 in grants announced today by Lightpath®, a market leader in Ethernet-based communication solutions for New York metropolitan area businesses. Schools receiving a Lightpath grant will fund a wide range of technology-based programs that will see tablet devices, webcams, video editing software and interactive whiteboards introduced into classrooms. Since starting its Transforming Education With Technology grant program in 2010, Lightpath has awarded $325,000 to local schools.
The following schools, which were chosen from among 80 applicants, will receive grants ranging from $5,000 to $10,000 from Lightpath to advance teaching and learning with technology:
$10,000 Grant Winners

Cedar Drive Middle School – Colts Neck (Monmouth County)
Charles J. Riley School #9 – Paterson (Passaic County)
Macopin Middle School – West Milford (Passaic County)
PANTHER Academy – Paterson (Passaic County)
University Heights Charter School – Newark (Essex County)
The Wardlaw-Hartridge School – Edison (Middlesex County)
$5,000 Grant Winners
Midland Park High School – Midland Park (Bergen County)
Milltown Primary School – Bridgewater (Somerset County)
Wemrock Brook School – Manalapan (Monmouth County)
Students at grant-winning schools will be able to publish original content to the Web, take advantage of breakthrough education apps, create original video content, monitor town water quality, advance math skills, explore space and learn from teachers around the world. These programs will help struggling readers, enhance students' worldviews, improve teachers' ability to track student progress, help students learn via unprecedented interactivity, increase the number of online students in schools and give students an opportunity to make new friends abroad.
"We see the profound impact that technology has on organizations every day, but it's especially rewarding to watch it transform the way children learn about the world around them," said Dave Pistacchio, President, Lightpath. "Lightpath created its education grant to help foster interactive learning and we are proud to have the opportunity to invest in their future. We congratulate this year's grant winners and wish them luck on the rollout of these exciting new programs."
The winning schools were selected by an independent panel of three judges from local colleges. All applications were made anonymous so as not to influence the judging process. Submissions were awarded based on how the proposed programs would improve instruction, enhance the overall education experience, utilize new technologies to promote learning and establish new school initiatives. The 2012 program was open to any New Jersey public and private elementary and secondary school located within Cablevision's service area.
Lightpath works extensively with schools throughout the New York metropolitan area to transform education in the classroom. Schools that have deployed services from the Lightpath Education Services Suite have cut costs, considerably increased bandwidth and enhanced teaching and learning. For more information about the work Lightpath has done in the education sector, visit: http://www.golightpath.com/education. For more information about Lightpath, visit http://www.golightpath.com.
About Lightpath
Lightpath, a division of Cablevision Systems Corporation (NYSE: CVC), is an industry leader in providing advanced Ethernet-based data, Internet, voice, video transport solutions and managed services to businesses across the New York metropolitan area. Lightpath's network is a highly reliable, resilient, and scalable fiber-to-the-business-premises network extending more than 5,000 route miles connecting more than 5,500 fiber-lit locations. Exclusively focused on meeting customer needs in the world's largest business market for 20 years, Lightpath has been continually recognized for its high level of customer service. For 14 straight years, the New York State Public Service Commission has given Lightpath its Commendation of Excellence. Lightpath has received many industry awards for innovation and leadership, most recently being named the 2011 North American Regional Service Provider of the Year by MEF (Metro Ethernet Forum). For more information, visit http://www.golightpath.com.