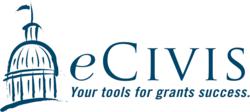 If it weren't for eCivis, we wouldn't have any new grant money coming in. It simply wouldn't be possible for us to do the research. The search feature and summaries save 90% of the time we used to spend going through each grant.
Pasadena, CA (PRWEB) December 11, 2012
eCivis, the nation's leader in online grants information and grants management, announced today that it is offering reduced cost subscriptions for qualifying small communities now through the end of the year. Some benefits of subscribing to the database, which houses Federal, State, and Foundation grant programs, include:

Custom search tools to readily access grant summaries
Automated search agents, daily/weekly emails, and grant program updates
An expansive database with the most relevant funding opportunities
Timely research allowing organizations to focus on grant writing
Some of the small cities that use eCivis include:
Ak-Chin Indian Community, AZ (Population of 669)
Village of Woodlawn, OH (Population of 2,675)
Guadalupe County NM (Population of 4,680)
City of New Roads, LA (Population of 4,831)
Town of Dewey Beach, DE (Population of 318)
City of Chelan, WA (Population of 3,890)
Belvedere, CA (Population of 2,100)
About eCivis
The eCivis Grants Network is an enterprise-wide, web-based grants management software solution that consists of industry-leading products and services, and is the ideal platform for improving grants performance for local governments and community-based organizations. Over 900 local governments, organizations, and tribes have chosen eCivis as their go-to source for all things grants-related.