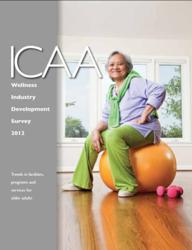 Wellness is major method for remaining competitive in a changing world
Vancouver, BC (PRWEB) December 11, 2012
Goodbye, rows of rocking chairs on the porch. Hello, fitness centers, social clubs, walking trails and skills classes. The active-aging industry—that is, independent/active adult or life care retirement communities, seniors centers, health clubs, parks and recreation locations, rehab and therapy clinics, among other organizations serving older adults—is investing "big time" in wellness as a "principal means of increasing the life satisfaction of older adults, and a major method for remaining competitive in a changing world," says Colin Milner, founder and CEO of the International Council on Active Aging (ICAA). ICAA, a professional association that leads, connects and defines the active-aging industry, recently released its ICAA Wellness Industry Development Survey 2012.
Wellness trumps caretaking
"The message from and for the industry is clear," Milner declares. The top two reasons for investing in wellness programs and facilities are "to increase the life satisfaction of older adults" (93%) and "to attract new customers and residents" (83%). According to Milner, this suggests that improving/maintaining quality of life trumps caretaking as the mission for the industry and as a primary growth driver. "Seventy-two percent of organizations recognize that emphasizing wellness is 'the right thing to do,'" Milner continues. "What's more, a majority of current customers and residents—61%—demand it."
"Wellness" means much more than simply offering some classes in fitness or arts and crafts. ICAA recommends that organizations set up formal wellness programs that embrace seven dimensions: physical (e.g., physical activity, nutrition, sleep), social (clubs, dancing, group activities), intellectual (journaling, games/puzzles), spiritual (faith-based, mindfulness), emotional (stress management, humor), environmental (meditation gardens, walking trails) and vocational (paid work, volunteering). Among survey respondents with formal wellness programs, three-fourths offer the seven dimensions. Compared with the 2010 ICAA Wellness Development Survey, there has been an increase in organizations offering all seven dimensions. The largest increases were in the vocational dimension (58% offered in 2010, 68% in 2012) and the environmental dimension (61% versus 71%, respectively).
Other key survey findings include the following:
· Many organizations (69%) plan to add more wellness activities, classes and programs over the next two years (2012-2014);
· Among those adding more wellness activities, 75% want to attract new residents; 76% want to increase their retention rate; 76% want to control health care costs; and 75% want to generate revenue;
· One third of respondents (32%) plan to hire new wellness staff;
· When planning new construction or remodeling, 96% of respondents stated that "green" or sustainable building practices are very or somewhat important;
· Wellness-related amenities planned for the next couple of years include, among others, walking trails or paths (19% of respondents), meditation garden/gardening area (18%), game courts (15%), wellness center in a stand-alone or attached building (13%).
Propelling the industry forward
"As the leading force in the active-aging industry in North America and valued participant and thought leader in the global active-aging movement, it is ICAA's responsibility to report on both the current state and future directions for the industry," Milner says. "Through our various initiatives, we also strive to propel the industry forward, urging organizations to do more than pay lip service to wellness. We in the industry are charged with promoting cultures that emphasize the strengths of our customers and, in a formal way, assist them in reaching their potential, regardless of age or individual circumstances."
Survey methodology/availability
In May 2012, ICAA members and a group of nonmembers in the industry were invited to complete a online survey. A total of 554 respondents from various parts of the active-aging industry participated. Responses were anonymous and aggregated for the purposes of the final survey report.
The ICAA Wellness Industry Development Survey 2012 is available free of charge to ICAA organizational members and credentialed media. It is available to others for a fee of $149.00.
About the International Council on Active Aging (ICAA)
ICAA, an association that leads, connects and defines the active-aging industry, supports professionals who develop wellness facilities, programs and services for adults over 50. The association is focused on active aging, an approach to aging that helps older adults live as fully as possible within all dimensions of wellness and provides its members with education, information, resources and tools. As an active-aging educator and advocate, ICAA has advised numerous organizations and governmental bodies. These include the US Administration on Aging, the National Institute on Aging (one of the US National Institutes of Health), the US Department of Health and Human Services, Canada's Special Senate Committee on Aging, and the British Columbia ministries of Health, and Healthy Living and Sport, among others.