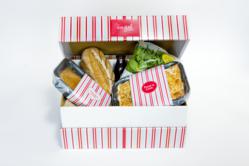 We started Angel Delivery so people could help each other. I grew up in an environment where family and neighbours would drop in homemade meals if you had a new baby or were unwell. For many of us today, finding time to prepare dinner for someone else and
Brooklyn, NY (PRWEB) December 12, 2012
Thanks to the global engine of twitter two unlikely business owners from opposite sides of the world have met, formed a business partnership and are set to launch a Angel Delivery to customers across the USA. Angel Delivery is the spin off of its sister company Baby Angel a gourmet gift meal delivery service for new parents, started by Becs Cass a nurse and mother of two from Wellington New Zealand. "We started Angel Delivery so people could help each other. I grew up in an environment where family and neighbors would drop in homemade meals if you had a new baby or were unwell. For many of us today, finding time to prepare dinner for someone else and then dropping it to their home is simply impossible, but people still want to show they care in practical ways," Becs says.
The small New Zealand business was discovered on twitter by Zalmi Duchman CEO and Founder of food delivery company the fresh diet a year ago. "I like the look of what you are doing in NZ - can we connect "A few tweets, skype calls, and a week later Rebecca was on a plane from New Zealand to meet Zalmi.
A year later business is underway. Angel Delivery has launched its Beta website for US gift givers. After months of planning their US launch, Angel Delivery has begun shipping orders for exclusive beta users in the United States. Our website http://www.AngelDelivery.com is now operational for some of the hundreds of users who have pre-signed up for this unique gift giving service. Angel Delivery plans a full launch early next month and is still adding users to its beta list every day.
The packages feature a range of foodie options, with meals including fresh cannelloni, braised beef casserole and homemade gourmet pies that come with seasonal salads, artisan bread and pressed apple juice. Treats and desserts include sticky date pudding with creamy caramel sauce, slabs of double chocolate brownie and buttery ginger slice.
For more information or to schedule an interview with Rebecca please contact her at Rebecca(at)AngelDelivery(dot)com or call 786.202.0463