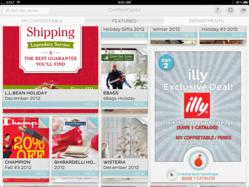 Coming in 2013, we're starting to get really personal, and this is the next phase in enriching the CoffeeTable shopping experience.
San Francisco, CA (PRWEB) December 11, 2012
CoffeeTable, the top-ranked catalog shopping app for the iPad, iPad Mini, and iPhone, rolled out the company's first-ever shopper rewards program, CoffeeTable Perks, this week. The program encourages users to find, share and save products and catalogs they love, all while racking up points and badges to redeem exclusive benefits and giveaways. CoffeeTable Perks rewards shoppers with points towards cash rebates and access to exclusive deals and prizes. To kick it off, the company launched a "12 Days of Perks" holiday promotion, revealing daily sales and giveaways for the active CoffeeTabler this holiday season, from now until December 19. This is the latest to come from CoffeeTable, which debuted the iPhone app in November and celebrates popular retail brands like Express, HSN (Home Shopping Network), and Diesel joining the CoffeeTable retail family.
"What can be more fun than shopping anytime of the day or night and getting rewarded for it? We love our shoppers and we want to reward them with our brand new loyalty program, offering CoffeeTable Perks to love, share, and save their way to unlocking exclusive deals with our featured retailers," said CoffeeTable CEO, Ben Choi. "Coming in 2013, we're starting to get really personal, and this is the next phase in enriching the CoffeeTable shopping experience."
CoffeeTable Perks
With CoffeeTable Perks, shoppers are encouraged even more to share, save, and love the products and catalogs they are enjoying. Designed to benefit shoppers, CoffeeTable Perks makes it easy and fast for shoppers to customize and track their personal tastes. Users can easily track their progress through their MyCoffeeTable profile, in an all-new Perks tab. There they can see how many badges they've collected as well as an updated number of Perks points.
Shoppers don't even need to purchase within the app to earn points and unlock exclusive flash sales and product giveaways. Simply browsing the robust library of catalogs and retailers in the app opens users up to all kinds of benefits. Points can be used to give to a charity or cashed in for personal rebates to keep the shopping going.
Love Bug – Gain Love Bug status the first time a product or catalog is loved, unlock the next level Love Bug badges at 5 and 10 likes.
Share Bear – Acquire the Share Bear badge the first time a product or catalog is shared with a loved one. Work up in Share Bear status after 5 shares and 10 shares as well!
Crackerjack Cataloger – Save favorite catalogs to My CoffeeTable! Receive personal messages when favorite brands have new catalogs, giveaways, and more
Platinum Perk – Accumulate 1,000 total points and consider yourself platinum – the crème de la crème, the upper echelon of shopaholics!
12 Days of Perks
Unwrap the gift of CoffeeTable this holiday season with CoffeeTable's "12 Days of Perks" deals and giveaways. From December 8 through December 19, CoffeeTable shoppers will get access to exclusive sales and prizes. After creating a CoffeeTable account, shoppers will automatically be enrolled in CoffeeTable Perks. CoffeeTablers can browse, love, share, and save their way to unlock badges, for deals they won't find anywhere else. CoffeeTable's Featured screen will be updated each day for users to discover the newest Perk, and shop their way to unlocking various deals. Tis' the season to find what you love, and love what you find!
Since its launch in 2011, CoffeeTable has risen to become the top catalog app in the App Store and its user base continues to expand. With more than 180 brands choosing CoffeeTable as their tablet partner, allowing retailers to expand their brand and get real-time shopper data. More information on how CoffeeTable drives ten times sales attribution can be found here http://coffeetable.com/4-case-study/.
For more information about the CoffeeTable Perks program, see http://coffeetable.com/shoppers. For more information about CoffeeTable, please visit http://coffeetable.com.
About CoffeeTable
CoffeeTable is a free catalog shopping application for the iPad and iPhone, aggregating leading retailers and boutiques into a single app for a premium browsing, shopping and purchasing experience. Established in the fall of 2011, CoffeeTable has already earned a top spot in the Catalogs category in the Apple App Store, secured multiple rounds of funding and features over 180 U.S. brands including Express, Sephora, Merrell, Crate and Barrel, dELiA's, West Elm, Harry & David, Lands' End and more. CoffeeTable is financially backed and supported by RR Donnelley, the world's premier content aggregator, distributor, and marketing services provider.
Media Contact:
Fusion for CoffeeTable
Victoria Yarnish
(310) 481-1431, Ext. 18
victoria.yarnish (at) fusionpr (dot) com