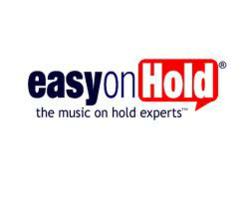 "Smart marketers are uncovering the hidden potential of their telephone system."

Julie Cook, President
Easy On Hold
Portage, MI (PRWEB) December 12, 2012
Ah, telephone on hold messaging, so....2013? Yep, it's fast becoming the savvy marketer's easiest and most strategic way to reach prospects and customers alike. And why not? With players that can play promotions down to a specific day or even hour, a business or organization can essentially design what sounds like its own custom radio station on hold, for a captive audience already tuned in.
"Smart marketers are uncovering the hidden potential of their telephone system," says Julie Cook, president of Easy On Hold, a U.S.-based provider of on hold messaging programs. "We can produce a series of professional 30-second ads, load them into the cloud or our server, and deliver them at pre-determined times right onto their phones. Thought on hold messaging was unsophisticated? Think again."
Tim Brown, founder and technical lead at the company, says the industry is catching up after a few too many decades stuck in 1st gear. "On hold messaging used to be the bane of a marketing pro's existence," he says. "If you tried to use it for anything timely or date-sensitive, it was a real hassle having to remember to change the message. And you certainly couldn't have messages that changed every day; that was unheard of. But the newest players have solved that issue; you really can have revolving, always-fresh content. It's exciting."
Easy On Hold was one of the first on hold messaging providers to offer marketing programs based on the then-new internet-load technology, back in 2007. "We called it the Anytime Plan to help communicate the possibility of what this plan could do for your communications program--no limits," Cook says. The idea took off and big name retailers like Shaw and Norwegian Cruise Line jumped on board.
In a newly-released video by Easy On Hold, Cook says the Anytime Plan "beats out monthly plans offered by other message on hold providers, because it allows you to update any time you need to, as often as once per week."
Brown describes the internet on hold messaging system as "truly hands-free," adding, "the unit is constantly checking back with our studio for new content or changed instructions. That kind of connectivity with the digital equipment does make it easy."
Brown says the company began producing and deploying on hold messaging as far back as 1997, after surveying businesses to learn about attitudes toward on hold advertising. "We heard that it took too long and was too complicated to change the messages. The newest internet-load technologies keep our clients out of the phone room and focused on doing more business."
Easy On Hold was created in 1997, providing professional telephone recordings, music and on hold message productions, auto attendant, IVR, voicemail greetings, and web audio to thousands of companies throughout primarily the U.S. and Canada.