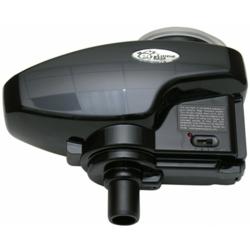 Start with a good one right from the first.
Morgan Utah (PRWEB) December 11, 2012
Empire Overdrive dB Loader, This is a New Sound Operated paintball hopper offered at Action Center Paintball and part of the Action Center Paintball Christmas super sale. Action center announces a new product in the continuing effort to bring the best paintball gear to the paintball public.
Paintball hoppers and paintball loaders are a very important piece of a Players paintball gear. They are the one limiting device on the paintball gun that will control how many paintballs a paintball gun can shoot. With a slow hopper you will have a slow gun. Action Center has a hopper selection of paintball hoppers that will hold anywhere from 40 paintballs all the way up to 300 paintballs. Players that have a tournament grade paintball gun the best selection is a force fed hopper. Action Center paintball loader selection will have a price for any player. The loader is very important and will play a major factor in paintball breaks and paintball chopping in the breach and barrel . Start with a good paintball hopper right from the first.
The Empire Overdrive Sonic dB Loader operates on one 9-volt alkaline battery for hours of continuous operation. The Overdrive dB loader has a unique user selectable three speed motor for better control and constant feeding. With a 200 plus paintball capacity, this electronic paintball hopper gives maximum performance when it is needed most. Its Vortex Feed System offers continuous flow of paintballs into the paintball marker without jamming
Features
Variable feed rate of up to 12+ balls per second.
Easy view lid.
200+ ball capacity.
Extended battery life.
3-speed operation: recreational, fast-feed and competition.
Jam-free operation.
LED operation indicator.
Durable composite construction.
Uses one 9-volt battery (not included)
for more information visit http://www.paintballguns.tv and http://www.actioncenterpaintball.com