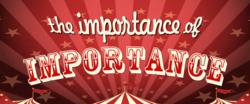 It is all about the importance of making those in your business life feel important.
Naples, FL (PRWEB) December 13, 2012
Jones's upbeat, humorous spin on these essential professional-development topics falls under his self-described umbrella of "The Importance of Importance." According to Jones, "It is all about the importance of making those in your business life feel important—and how much more profound an impact you can have on a business when you have that feeling of importance."
Jones's appeal—more "performance" than "presentation"—crosses a broad range of business, civic, and educational platforms. According to Judy Berman, Senior Vice President of Sales and Marketing at The Baltimore Sun, "I can always count on Randy to be funny, engaging, thought-provoking—and above all—relevant." Dr. Ludmilla Wells of Florida Gulf Coast University adds, "He melds education and entertainment in ways that make information memorable."
Jones pulls much of his presentation material from RediscoverCourtesy.org, his nationwide initiative to promote a higher awareness of professional courtesy, which has landed him on MARKETPLACE with Kai Ryssdal and on CNBC.com. A Southwest Florida business columnist and animated storyteller, Jones enhances his presentations by sharing humorous anecdotes on his recent interactions with legendary figures Regis Philbin, Magic Johnson and others.
For those planning events in Florida, his Naples, FL location also presents a value due to savings on costly travel and lodging.
With an understanding of the universal appeal of his topics, Jones suggests, "There is not an organization out there that cannot benefit from an increased focus on courtesy, communication, productivity, and success."
To view a brief highlights video, please click here.
Note: Despite appearances, no actual iPhones were harmed in the making of this video presentation.
Contacts:
Randall Kenneth Jones
571-238-4572
randy(at)mindzoo(dot)com
###
ABOUT:
A project of Jones's Naples, Florida-based marketing communications agency, MindZoo, RediscoverCourtesy.org's goal is to shed a positive light on the benefits of professional courtesy relating to business relationships, written and verbal communication, profitability, proactive thinking, ethics, loyalty, and business operations. For more information please call 571-238-4572 or visit rediscovercourtesy.org or mindzoo.com.