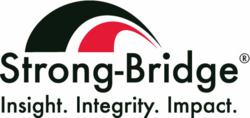 Seattle, WA (PRWEB) December 12, 2012
Strong-Bridge LLC announced it has added Joe Iudice as Business Development Manager. Joe brings eighteen years of business development experience within software and services to Strong-Bridge Consulting.
"We hire great people to do great work", states Tom Rayner, Strong-Bridge President. "We continue to carefully build our team with experienced, highly capable people that have Strong-Bridge values at their core. Joe has both client and consulting experience which yields a balanced approach to business development. He has been on both sides and knows how to make it a win for the client and for Strong-Bridge."
Joe specializes in CRM, Alliance Management & Development, Business Development & Marketing Strategy, and Contract Negotiation. He reinforced his expertise by working for five years at Microsoft within the Dynamics Group and most recently on the Microsoft Community Partner side with HCL and Slalom Consulting.
"From the first meeting with the Strong-Bridge family I felt a very unique connection, and was extremely impressed with the culture and vision for the company, states Joe. " I am excited to bring my business development experience to Strong-bridge and open doors for new opportunities as well as help grow business within existing clients."
About Strong-Bridge Consulting
Strong-Bridge LLC is a professional services firm that provides strategic leadership and execution excellence for clients ranging from startups to Fortune 100 corporations. With Customer Experience at its core, Strong-Bridge provides thought leadership and expertise in areas of product, marketing, sales, and service strategy, process and operational optimization, and program and project management. With a "strategy to reality" approach, Strong-Bridge has completed hundreds of complex and game-changing initiatives for companies such as T-Mobile, Microsoft, Starbucks, Expedia, AT&T Mobility, Premera, and GCI.
Founded in 2003, Strong-Bridge has earned a 100% client referral rate with over 120 professional consultants in Seattle and Toronto.
For more information, visit http://www.strong-bridge.com