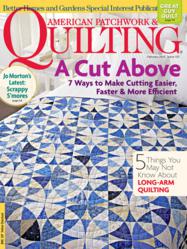 Omaha, NE (PRWEB) December 13, 2012
AccuQuilt is excited to announce the Winding Ways quilt on the cover of Better Homes and Gardens American Patchwork & Quilting® magazine was cut entirely with the AccuQuilt GO!® Fabric Cutter using the GO!® Winding Ways die. This beautiful blue and white quilt was designed by Laura Boehnke and machine quilted by Sue Urich.
The Better Homes and Gardens special interest publication American Patchwork & Quilting® magazine is the premier quilting publication in the industry and is a go-to magazine for quilters and fabric crafters.
The cover of the February 2013 issue will feature the Way Around Quilt, showcasing its timeless design and masterfully rendered Winding Ways pattern. It is the first cover quilt to be featured that is completely cut with a fabric cutter (vs. traditional cutting methods like a rotary cutter or scissors).
"We at AccuQuilt are very excited to see an "American Patchwork & Quilting®" cover with a quilt cut entirely from our GO! Cutter, especially on such a prestigious industry magazine," said Lynn Gibney, AccuQuilt director of marketing. "It inspires us as a company and we hope it inspires readers who may be wondering what our cutters can do for them as well."
The magazine takes readers through the assembly process of the Winding Ways Quilt and showcases the use of the AccuQuilt GO! Fabric Cutter and the Winding Ways die as a way to eliminate templates and make cutting simple and easy. The article offers tips and instruction for making this quilt including cutting, pinning curve tips, color and fabric options, and assembly.
The issue goes on sale Dec. 6, 2012 and will be available in quilt shops, retail stores and book stores across the country.
AccuQuilt GO!® dies—including the Winding Ways die (55069)—the GO! Baby® Fabric Cutter and GO!® Fabric Cutter, are available at local quilt and fabric retailers. Quilters also can purchase GO! fabric cutters and dies, along with the Studio™ Fabric Cutter, GO! die adapters and hundreds of Studio™ quilting dies, by visiting accuquilt.com or calling 888.258.7913.
About AccuQuilt, Better Cuts Make Better Quilts:
Headquartered in Omaha, Neb., AccuQuilt offers quilters, fabric crafters and retailers a premiere line of fabric cutters, dies, quilting patterns and other quilt and fabric cutting solutions that help quilters quickly and accurately cut shapes for quilting and fabric crafts. AccuQuilt also offers quilters a wide variety of rich educational resources to enhance their quilting experiences. Cutting with AccuQuilt cutters is a natural evolution of fabric cutting methods. "First scissors…then rotary…finally…AccuQuilt" for fast, easy, accurate fabric cutting.