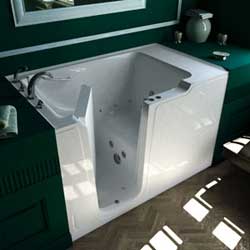 Our new Facebook page will have special offers and savings codes for our loyal customers.
Denver, CO (PRWEB) December 11, 2012
Aging Safely Baths & More, a supplier of safe bathing products, is excited to announce that the company has recently redesigned its Facebook social media page called "Safer Hydrotherapy Walk in Bathtubs". Aging Safely's website has a convenient Facebook icon, so customers and shoppers who want to view the Facebook page can instantly access up-to-date information and exclusive specials .
Zach Wennstedt, CEO of Aging Safely, said, "Customers can browse the Facebook page and comment on the information on it. Aging Safely's Facebook page will feature links to articles and resources to make it even easier for customers to get reliable information. Customers reading the page will have the opportunity to explore useful resources that can assist them before purchasing a hydrotherapy bathtub or roll in shower."
The Facebook page lets customers that are interested in purchasing a walk in bathtub learn different options that are available to help make more secure bathing possible. Shared discussions encourage customers to voice their concerns and interest about walk in bathtubs. Aging Safely's Facebook page is available 24 hours a day, so customers can enjoy feedback from Aging Safely representatives and other interested parties. The Facebook page can help customers learn about safe bathing technologies before they make a purchase. However, it is also the ideal forum for customers to share their experiences after making purchase.
Aging Safely will feature some products on the updated Facebook page, so customers can get detailed information about particular senior bathtubs that can help promote safe bathing and be a great resource for those aging in place. Aging Safely's representatives actively monitor the Facebook page, so they are responsive to customers inquiries and comments about walk in bathtubs and walk in showers. Shoppers who are seeking to purchase a specialty bathroom appliance will be pleased that Aging Safely offers walk in bathtubs from the highest quality manufacturers. Followers of Aging Safely's Facebook page will be able to view special offers and promotions that can save them money as well.
The new Facebook page will invite customer interaction. Customers who are thinking of purchasing hydrotherapy tubs can read comments and learn the benefits of hydrotherapy. They can click on links and read information from past hydrotherapy bathtub purchasers and sales staff. They will also have the opportunity to participate in activities that will help enhance their education about bathroom safety products.
Contact Information:
Tye Wennstedt
1-888-779-BATH(2284)
info@agingsafelybaths.com