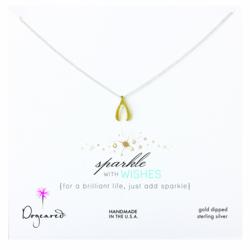 At Dogeared, we're big believers in being proactive and creating your own luck – and new lucky charms offer new ways for our customers to find their inspiration!
Los Angeles, CA (PRWEB) December 11, 2012
Dogeared Jewels & Gifts, a trendsetting fashion accessories brand known for its cool California aesthetic and innovative designs, is delighted to announce that its soon to launch 2013 "Forever" line includes an expanded collection of all new good luck charms. The wholesale catalog, Dogeared Forever 2013, premiering at select winter trade shows, will feature an array of expanded and new collections with words, charms and delicate and sophisticated line extensions that showcase the inspirational stories Dogeared is known for.
Among the new offerings are the Sparkle with Wishes wishbone charm and a Sparkle with Luck shimmering four-leaf clover. The word "lucky" is also hand cast and presented on a bar-style necklace in the all-new Words to Live By collection. All styles come in both sterling silver and gold dipped versions.
Dogeared was founded on the understanding of the power of charms, wishes, and dreams, and the original wishbone charm was one of the company's first best sellers. In the 21 years since, the company has continued to add good luck symbols to their expanding line of custom charms as part of their mission to bring positive energy to customers.
The circle, perhaps the most ancient good luck symbol, is featured in Dogeared's top-selling Karma collection, and is the perfect representation of eternity, wholeness, and perfection. Other traditional lucky charms in Dogeared's line-up include bamboo, dragonflies, ladybugs, horseshoes, crescent moons, elephants, Buddha, feathers, the beckoning cat, dolphins, tortoises, and butterflies. These, along with the endless selection of other Dogeared charms, are available in multiple styles, including the year-old Create collection, which allows consumers to create their own empowering talismans.
"Lucky charms are really more about positive thinking than luck. They are a way for customers to focus on their wishes, their hopes, their dreams," commented Marcia Maizel-Clarke, Dogeared founder and designer. "At Dogeared, we're big believers in being proactive and creating your own luck – and new lucky charms offer new ways for our customers to find their inspiration!"
Dogeared Jewels & Gifts offers hundreds of gifts for every occasion. All are designed by Dogeared and handcrafted in their Los Angeles studio.
"Handcrafted and 'Made in the USA' has been the heart and soul of who we are and what we do for over 20 years. By carefully handcrafting every piece, each Dogeared jewel has a story to tell... and being made with love is at the core of all of them."
Dogeared, a Certified B Corporation, is committed to reducing its environmental impact and supporting its employees and community. All sterling charms are handcast and catalogs, cards, and packaging are printed on mixed sources. The company works with domestic suppliers and casters who share their environmental commitment. All the jewelry and gifts are handcrafted in Dogeared's Southern California studio.
Winter 2013 Trade Show Schedule
New York ENK Accessorie Circuit Show
The Show Piers
New York City
Pier 94
January 6, 7, 8, 2013
LA Market
Kristi Harris Sales
Cooper Design Building
860 South Los Angeles
Suite #640
January 14-17, 2013
New York International Gift Fair
Jacob Javits Convention Center
11th Avenue @ 37th Street
Booth #8101
January 27-30, 2013
Project Las Vegas
The Mandalay Bay Convention Center
February 19 – 20, 2013
Dogeared Jewels & Gifts
Designer Marcia Maizel-Clarke founded Dogeared Jewels & Gifts over 21 years ago in Southern California. Originating word jewelry, she began creating beautiful pieces with the purpose of putting positive, peaceful, and loving energy into the world. This energy has always included being kind to the planet, handcrafting all the jewels and gifts in California, and working with non-profit organizations sharing a vision of a better world. Dogeared's unique, custom-cast jewels are regularly featured in fashion, lifestyle, and celebrity publications, in films and on television shows. Trendsetting retailers around the world, including Nordstrom, Neiman Marcus, Bloomingdale's, Fred Segal, and ABC Home, all carry Dogeared. Dogeared is a certified B Corporation. Please visit http://www.dogeared.com for Dogeared's online flagship store. For wholesale information, visit http://www.dogearedwholesale.com.