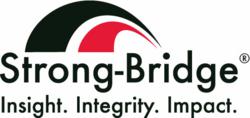 Seattle, WA (PRWEB) December 11, 2012
Inc.'s Hire Power Awards ranks Strong-Bridge Consulting LLC as one of the top private businesses for generating the most jobs in the past three years within Washington State.
"The top 100 companies on the list have created 73,032 American jobs in the three-year period from 2008 to 2011 – an amazing feat, given that much of that job growth came during the heart of the recession," explains Inc. Editor-In-Chief Eric Schurenberg. "And it isn't just the big guys that are adding jobs. Companies with less than $50 million in annual revenue make up nearly one-third of the Hire Power list."
The inaugural Inc. Hire Power Awards are sponsored by Bank of America Merrill Lynch, which is proud to recognize American companies that have greatly increased their workforces. Inc.'s Hire Power Awards celebrates private companies on the forefront of American job creation, giving these businesses the recognition they deserve.
"It's an honor to be recognized for generating job growth", states Brian Hartnett, Strong-Bridge Partner and Co-Founder. "It's pretty straightforward, when our clients succeed in the marketplace, we grow. By staying on top of sector innovation while understanding what happens on the front line, we've been able to help client's drive innovation where work gets done and where customers experience their products and services.
Inc. is the only major business media brand aimed solely at CEOs of fast-growing private companies. The Hire Power Awards will appear in Inc.'s December/January issue, as well as the brand's web site, http://www.inc.com/hire-power/list/state/wa
About Strong-Bridge
Strong-Bridge LLC is a professional services firm that provides strategic leadership and execution excellence for clients ranging from startups to Fortune 100 corporations. With Customer Experience at its core, Strong-Bridge provides thought leadership and expertise in areas of product, marketing, sales, and service strategy, process and operational optimization, and program and project management. With a "strategy to reality" approach, Strong-Bridge has completed hundreds of complex and game-changing initiatives for companies such as T-Mobile, Microsoft, Starbucks, Expedia, AT&T Mobility, Premera, and GCI.
Founded in 2003, Strong-Bridge has earned a 100% client referral rate with over 120 professional consultants in Seattle and Toronto.
For more information, visit http://www.strong-bridge.com