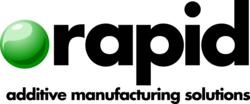 Known worldwide as a must-attend event, RAPID Additive Manufacturing Solutions Conference and Exposition is the place to share your innovative research, case study or application.
DEARBORN, Mich. (PRWEB) December 11, 2012
The Society of Manufacturing Engineers (SME) announced its call for presentation abstracts for the RAPID Additive Manufacturing Solutions Conference and Exposition to be held at the David L. Lawrence Convention Center in Pittsburgh, Penn., June 10-13, 2013.
"Known worldwide as a must-attend event, RAPID is the place to share your innovative research, case study or application with a high-level, influential audience focused on AM," said SME Business Development Manager Gary Mikola. "We're creating a powerful lineup of presentations featuring some of the most acclaimed international speakers in this industry."
Additive manufacturing (AM), often referred to as 3D printing, is a new way of making products and components from digital models and will have implications across a wide range of manufacturing industries. Located just 40 minutes from the National Additive Manufacturing Innovation Institute (NAMII), RAPID will include cutting-edge AM and 3D imaging technologies and the institute's ongoing effort to help revitalize the American manufacturing sector. SME is heavily involved in technology transition and dissemination, and the education and training of practitioners through the institute.
The deadline to submit abstracts is December 17, 2012. Submissions will be reviewed by the technical advisors of SME's Rapid Technologies & Additive Manufacturing (RTAM) Community. Presentations will inform attendees and contribute to a comprehensive collection of research, case studies and application notes in subject areas such as:
3D Imaging Applications
3D Printing
Additive Layer Technologies
Additive Metal Processes
Aerospace & Automotive
Artwork, Fashion and Jewelry
Casting Applications
Competitive Analysis
Concept Modeling
Consumer Products Applications
Design Considerations
Direct Digital Manufacturing
Economic & Business Considerations
Electronics Applications
Engineering Analysis
Fabrication and Assembly
Forensic Anthropology
Industrial Design / Design Considerations
Packaging
Natural Science Applications
New Applications & Technology
Non-Contact Imaging Technology
Mass Customization & Personalization
Materials: Plastics, Metals & Composites
Medical & Dental Applications
Mold Making
Rapid & Vacuum Casting
Reverse Engineering
Reverse Modeling
Secondary Processes, Finishing & Plating
Tooling Analysis
Transportation Applications
Important Deadlines:
Abstracts – December 17, 2012
Notification of abstract acceptance – February 15, 2013
Conference speakers who present formal technical papers that demonstrate technical merit and advanced uses of rapid technologies influential to the additive manufacturing industry will be considered for the Dick Aubin Distinguished Paper Award. All speakers are entitled to the benefits of special registration and full credentials.
"We can't wait to announce our presentation selection, so please get your abstracts in," Mikola added.
SME RAPID News:
To receive the latest up-to-the-minute SME news, subscribe to RSS at http://feeds.feedburner.com/sme. Follow @RAPID_Event on Twitter, Circle RAPID – Additive Manufacturing Solutions Event on Google+ and Like RAPID Additive Manufacturing Solutions Conference & Exposition on Facebook to receive conference updates.
About RAPID:
RAPID Additive Manufacturing Solutions Event is North America's definitive conference and exposition featuring 3D imaging and 3D printing technologies. For more than twenty years, RAPID has been recognized internationally among industry experts and analysts for its unrivaled display of software, systems, materials and machinery. RAPID attracts buyers, sellers and end-users of design, prototyping, tooling and direct digital technologies to a world-class additive manufacturing event for discovery, innovation and networking. RAPID is produced by the Society of Manufacturing Engineers with leadership and guidance from its Rapid Technologies & Additive Manufacturing (RTAM) Community. For more information, please visit sme.org/rapid.
About SME:
The Society of Manufacturing Engineers (SME) is the premier source for manufacturing knowledge, education and networking. Through its many programs, events, activities and online training division, Tooling U, SME connects manufacturing practitioners to each other, to the latest technologies and to the most up-to-date manufacturing processes. SME has members around the world and is supported by a network of chapters and technical communities. A 501(c)3 organization, SME is a leader in manufacturing workforce development issues, working with industry, academic and government partners to support the current and future skilled workforce.