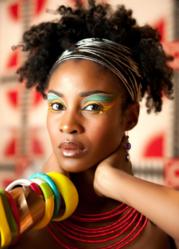 America's Next Natural Model is a most uplifting & inspiring beauty pageant. (facebook fan.)
Brooklyn, NY (PRWEB) December 12, 2012
The online pageant can best be described as America's Next Top Model meets American idol but it takes place online at going-natural.com, one of the fastest growing social networks that has been instrumental in the development of natural hair care.
America's Next Natural Model is the brainchild of Mireille Liong-A-Kong, a Black woman who holds a Master's Degree in IT and wears her hair natural. The Social Entrepreneur who personally suffered from relaxer induced alopecia, a hair loss disorder that affects 73% of African American women, started the pageant to promote the beauty of natural hair with the goal to spread awareness and help improve the health of Black women's hair.
Although the avant-garde competition is rooted in social media, it already has sprouted its marks into the real world. Tiana Tamara Townsel, the first ever winner of the competition became Miss Black Washington in 2008. This year's winner Chassity Beynum was featured on NBC, in a fashion photo and video shoot for New York haute couture designer Adrian Alicea. Both were sponsored by Iman Cosmetics and Sula NYC.
The competition that promotes the beauty of natural hair may be Liong's most successful project yet. America's Next Natural Model is the perfect match between upcoming models who need more experience and businesses looking for social media exposure.
Models, sponsors and bloggers are welcome
While the beauty contestants get free products, endorsement opportunities, a chance to win a photo shoot in New York as well as $1,000 cash, sponsoring companies can be "facebook liked" by the tens of thousands of potential buyers who make up the growing social network. Interested bloggers can join to get early access to exclusive resources like photos to use for their blogs.
The competition starts in the 2nd week of January 2013 and lasts eight weeks. Companies large and small are welcome to contact the company for sponsorship and models who are interested in joining the contest can submit their application online at America's Next Natural Model information and registration. The deadline for models to apply is December 31st.